Note: This article accompanies Q2 2023 Hub Action Plan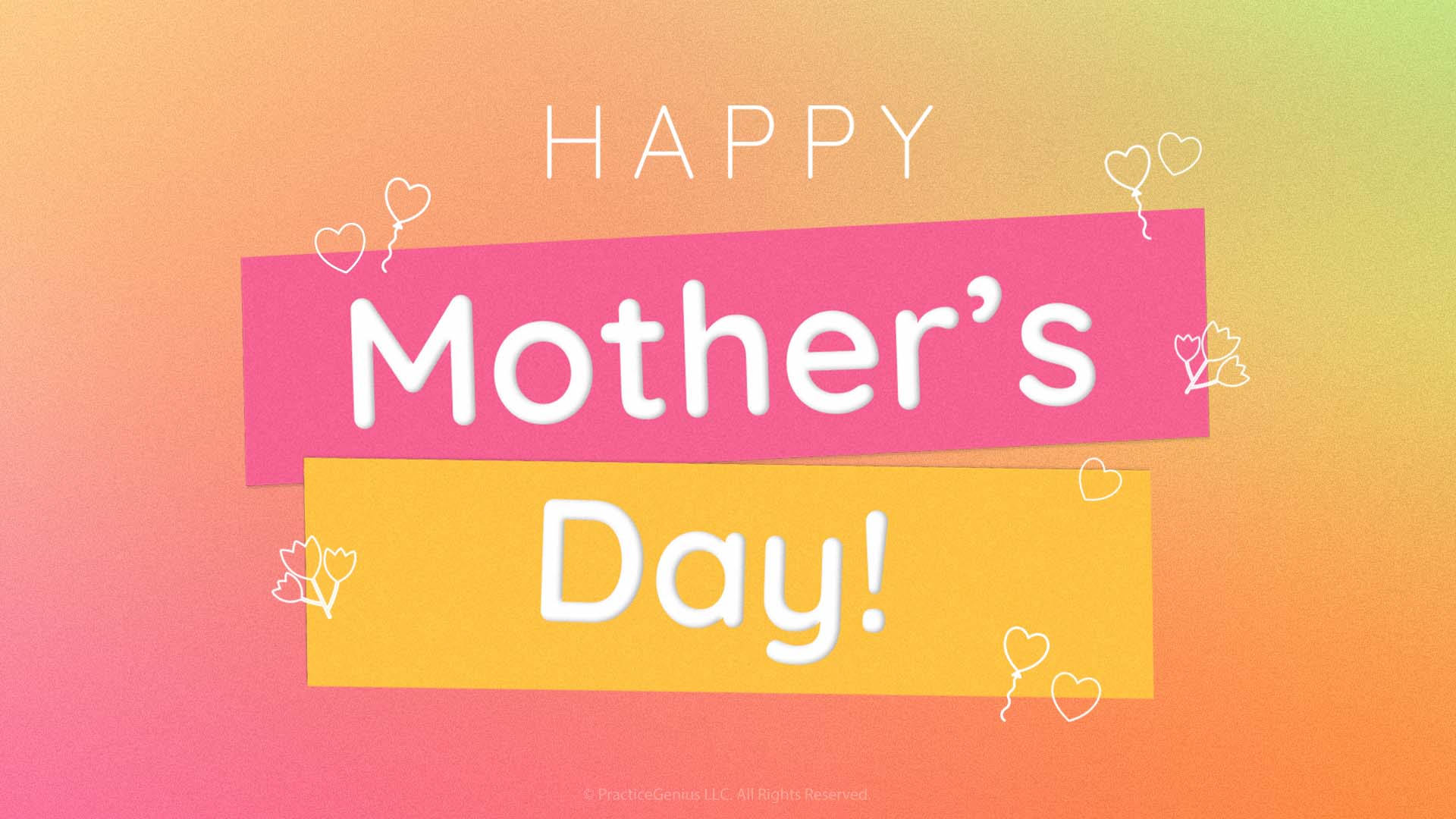 YAY FOR MOMS! Though they deserve to be celebrated all year long, Mother's Day is the perfect time to offer them $500 off their own sparkling smile! Change up the copy-and-paste text below to customize this promotion to fit your offer.
Be sure to go public so that it appears as a landing page on your Hub's microsite. Build excitement by creating an in-app message to your members, along with print-ready flyers and posters with more information. It can all be created in minutes!
Step 1

:
Offer Details:

What, When, Who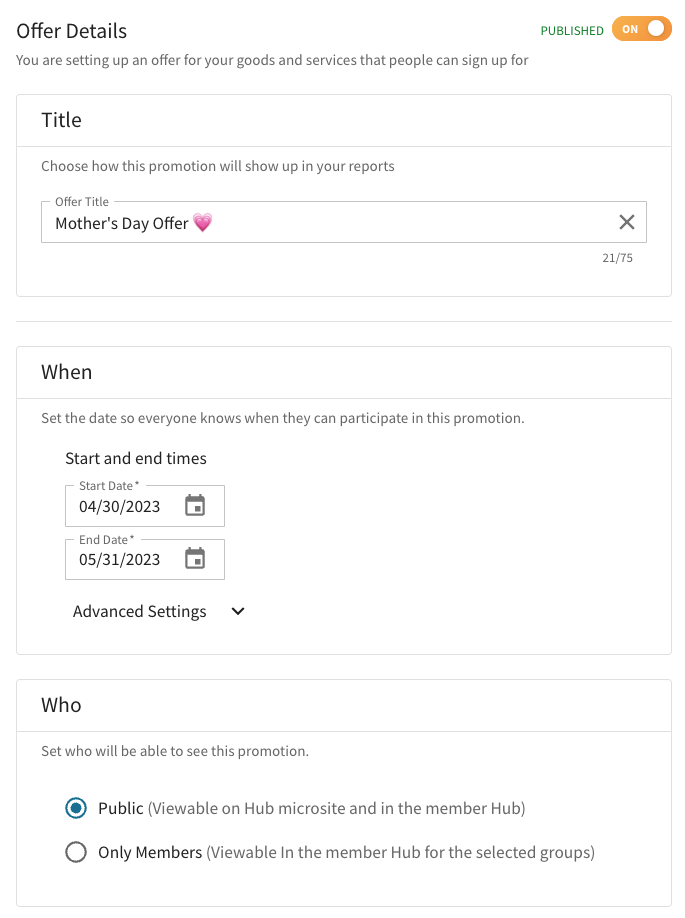 [Title for Internal Use]:
Mother's Day Offer 💗

[When]:
Start Date: 4/30/2023 (adjust as needed)
End Date: 5/31/2023 (adjust if needed)
[Who]:
Public
Step 2: Add a Promotion Image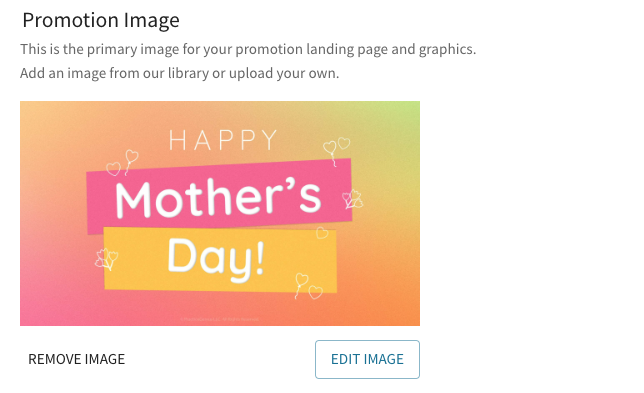 [Campaign image]

Choose EDIT IMAGE > UPLOAD YOUR OWN
The Happy Mother's Day graphic to upload can be found at the end of this article
Step 3:
Add your

Promotion Description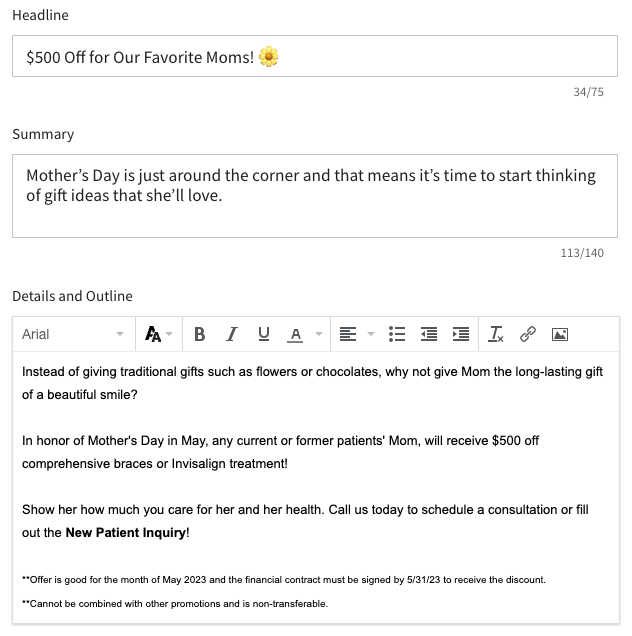 Headline text:
$500 Off for Our Favorite Moms! 🌼
Summary:
Mother's Day is just around the corner and that means it's time to start thinking of gift ideas that she'll love.


Details:
Instead of giving traditional gifts such as flowers or chocolates, why not give Mom the long-lasting gift of a beautiful smile?

In honor of Mother's Day in May, any current or former patients' Mom, will receive $500 off comprehensive braces or Invisalign treatment!

Show her how much you care for her and her health. Call us today to schedule a consultation or fill out the New Patient Inquiry!

**Offer is good for the month of May 2023 and the financial contract must be signed by 5/31/23 to receive the discount.
**Cannot be combined with other promotions and is non-transferable.
Step 4:
Publish Date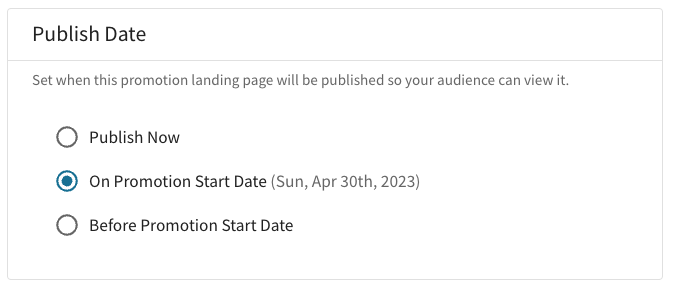 [PUBLISH]
Build Engagement With Social Posts
To send a post to Social Media Manger for scheduling, click:
[Set Up In Social Media Manager] > [Save & Schedule]
To download the post and schedule from your social media accounts, click:
[Download Image]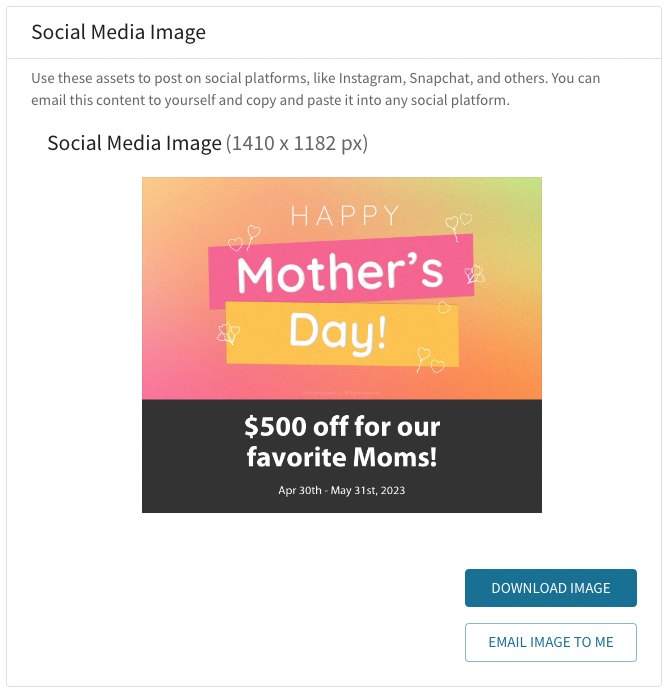 Build Engagement by Sending Messages to Your Members
To send an in-app message and email to your members about your promotion, click:
[Set Up In Communication Manager]
Messages can be sent immediately or scheduled for a future date. Here's an illustration of a message that was edited before it was sent to Communication Manager, and scheduled to be sent on the first day of the event.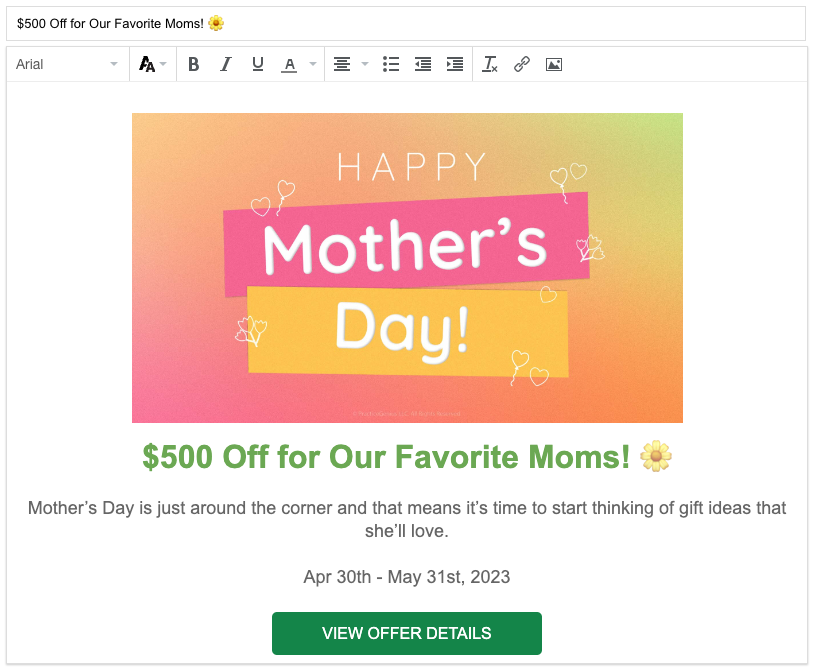 Build Engagement by Sending Flyers and Postcards
Download a print-ready file of an 8.5x11 flyer, complete with a QR code that takes your audience to your landing page for more details.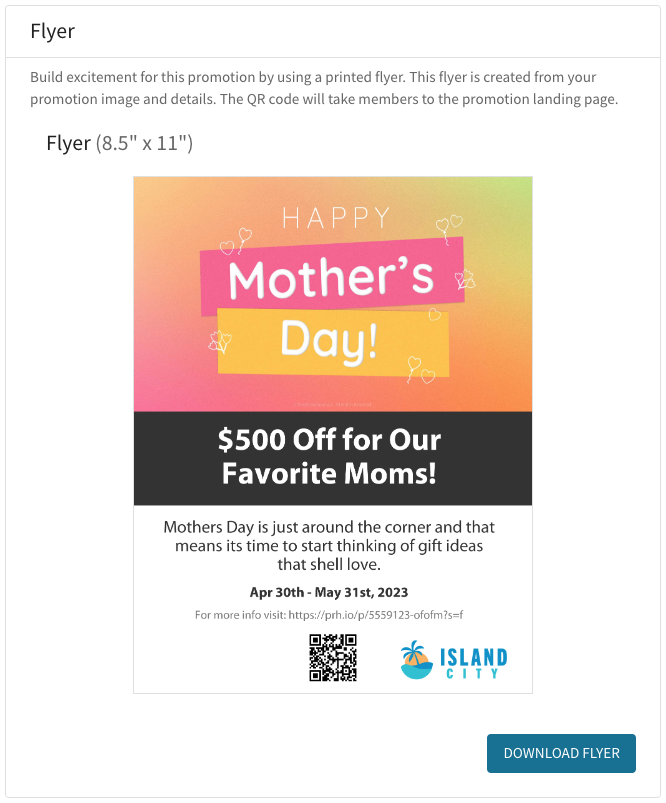 Download a print-ready file of a 4x6 postcard, complete with a QR code that takes your audience to your landing page for more details.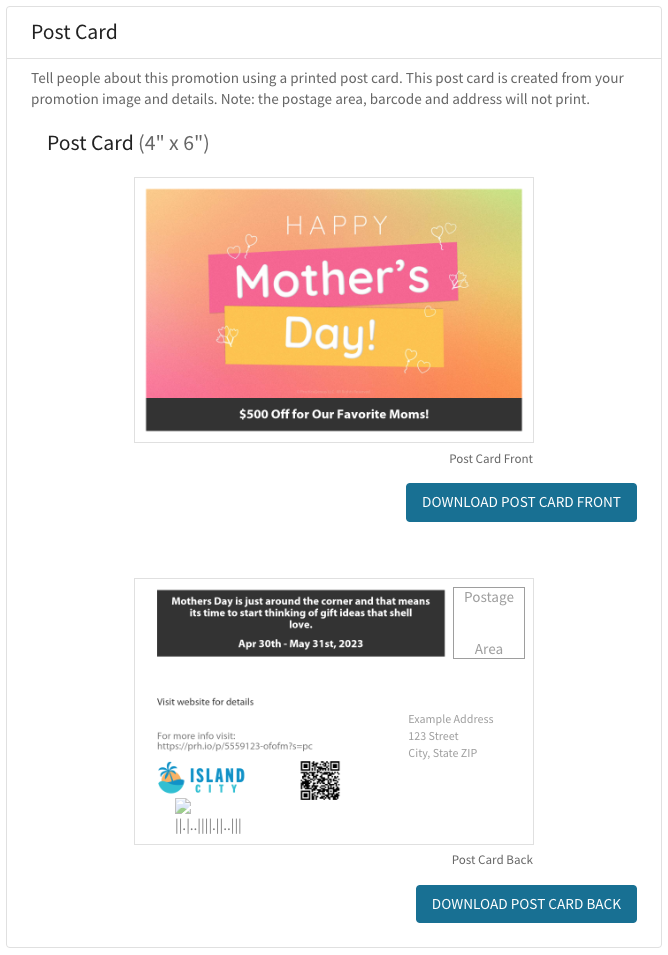 –––––––––––––– Click here to learn more about PROMOTION MANAGER –––––––––––––