With just a few clicks, you can build professional-looking promotional events and offers without needing programmers or graphic designers.
Let's create a Promotion!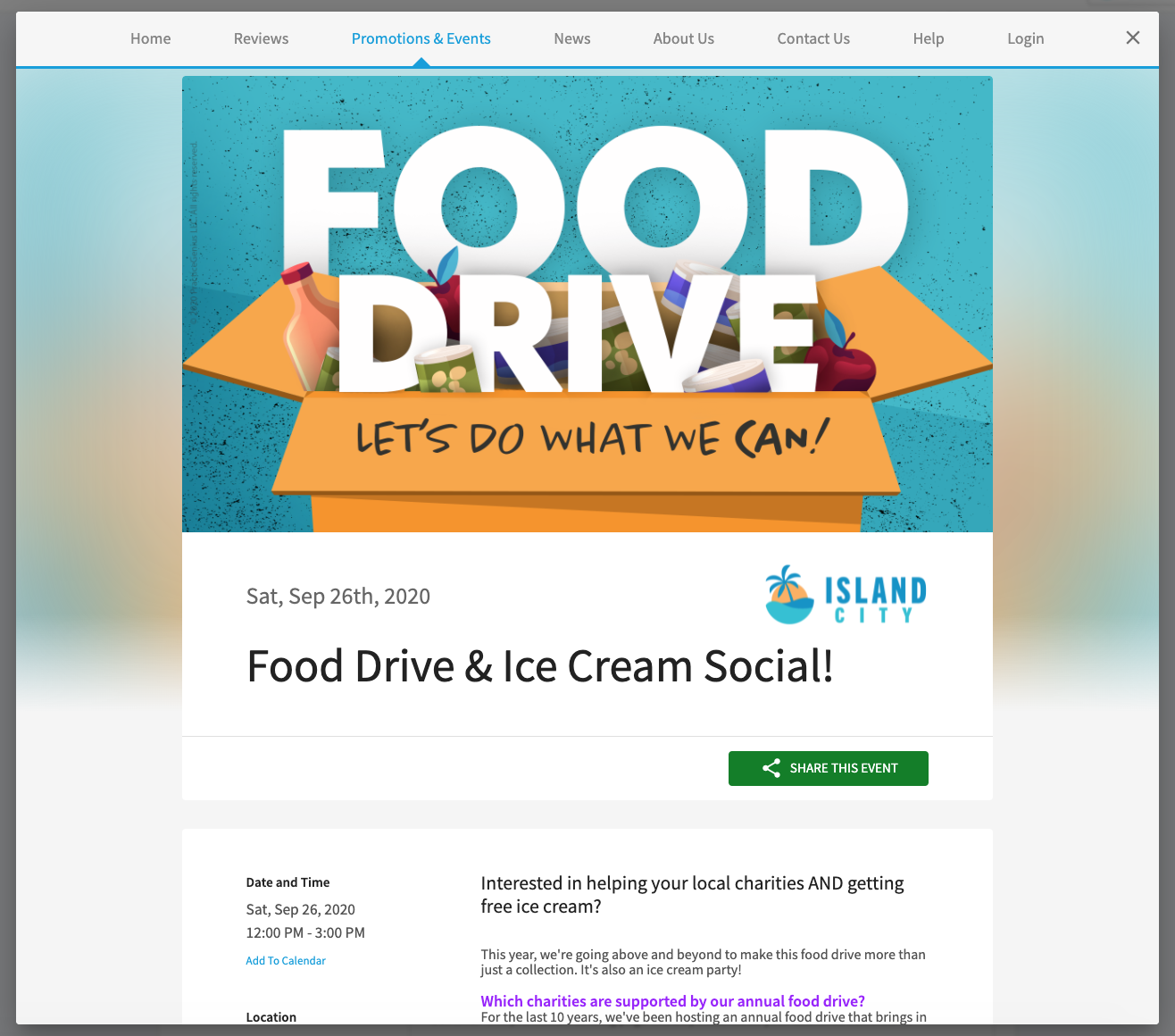 Start by clicking on the Manage tab followed by Promotion Manager.

Click Create at the top left.

Choose which kind of promotion you will be creating.

Event
If you're looking to generate awareness by hosting a local event (either in person or virtually), use the Event promotion page to maximize your attendance and to get your member to invite non-members to attend.


Offer
If you're looking to generate revenue from new or existing customers, use the Offer promotion page as a way to highlight a special offer and encourage people to sign up.
In the Title section, you can create a title for your promotion. This title will only be visible to your internal team.

Completing the Where, Who, and When Sections
If you're creating an Event, the Where section is where you can add the event location that will be displayed within the promotion. You can choose from the following options:
Venue - Hotel, restaurant, etc.
Your Business - Any of the locations that are housed in the Hub
Online Event - Zoom, Google Hangouts, etc.
To Be Determined - Location pending
None - No specific location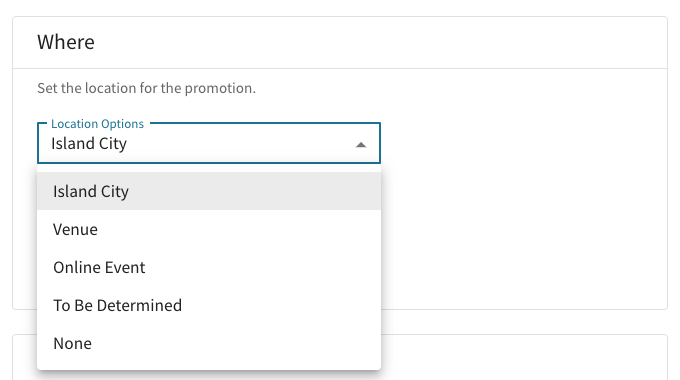 Both Event's and Offer's have a When section but an Offer doesn't have a start and end time, just the dates the offer is running.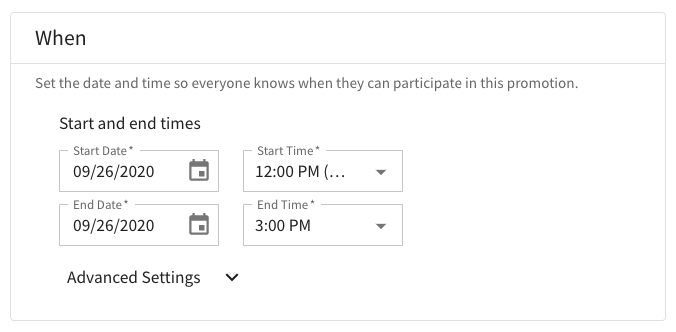 In the Who section, decide whether your promotion will be available to the public or only select members of your Hub.
Public (Viewable on Hub microsite and in the member Hub)


This means that everyone will be able to see your promotion, whether or not they're logged into their Hub accounts, or have Hub accounts at all.



Only Members (Viewable in the member Hub for the selected groups)


This means that this event or offer is visible only to the users who have Hub accounts

and

are in the groups that are permitted to see your promotion.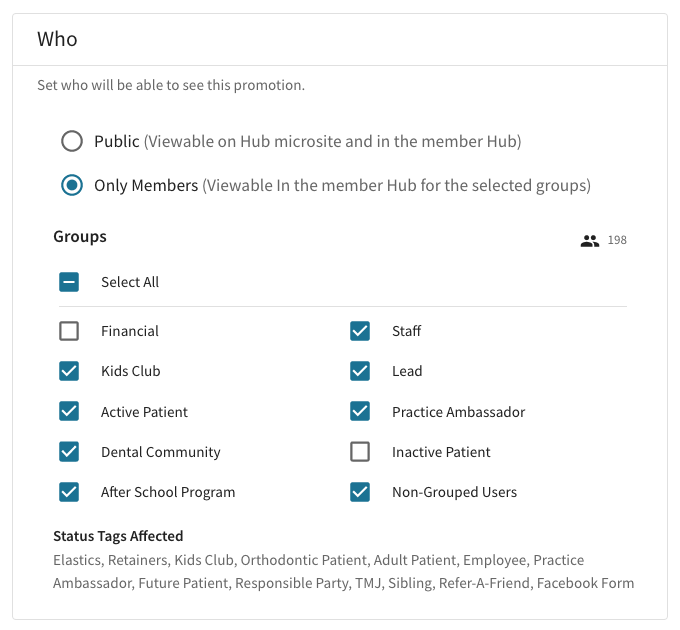 When you schedule a promotion, you'll see a new Promotions & Events tab on your Hub microsite.
Note that if your promotion is available to the public, everyone will see it as shown above. If, however, the promotion is set to 'Only Members' then only those selected members will see the promotion when they login into their Hub account.
Promotion Details
The What section is where you can create the visuals and messaging that people will see when they arrive at your promotion's landing page.
Start with adding an image by clicking Choose Image.

In the Static Templates section, you'll find dozens of ready-to-go templates to choose from. Be sure to check back often for new options, as the Hub will be adding to the template library every month.
If you would like to use your own graphics, click Upload Your Own. For best display results, we recommend using a 1920 x 1080px image but the Hub has cropping and edit features built within the uploader.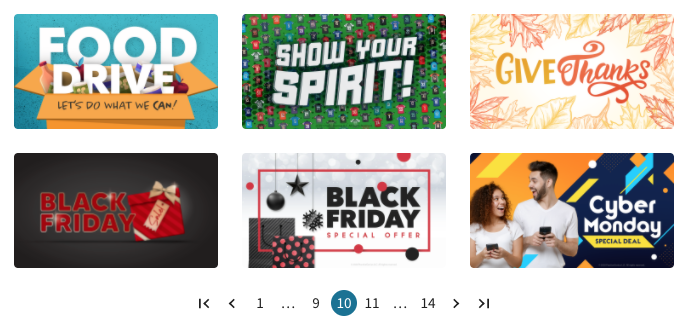 Next, add a Headline. This is the promotion title that participants will see.

Once a headline is added, add a Promotion Summary. This is a short description of your event or offer.

In the next section, you can add your Promotion Details and Outline. This is where you can share all the details that your audience needs to know about your promotion.
These details may include things like what the event or offer is for, who or what participants should bring, and the activity schedule, if applicable.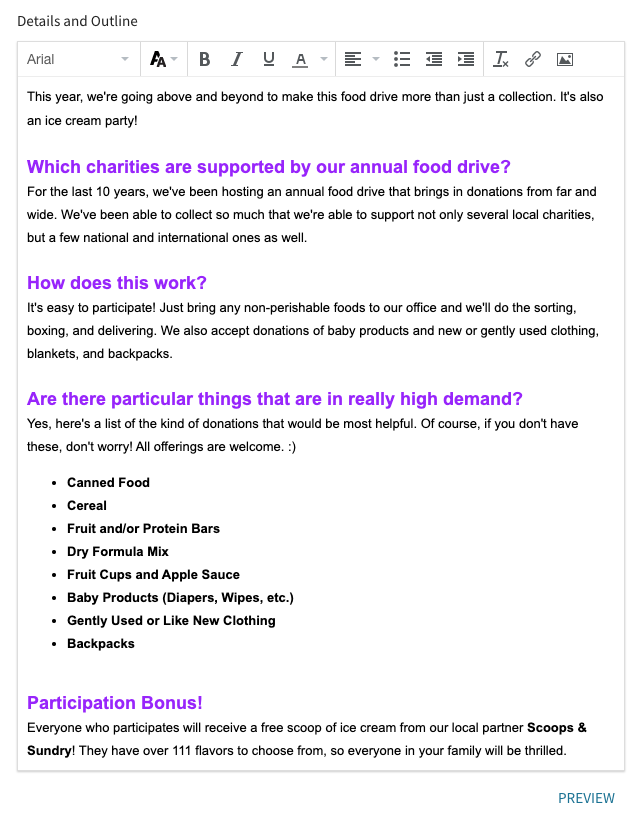 Once you're finished writing, click Preview to see how your whole promotion will look on your microsite.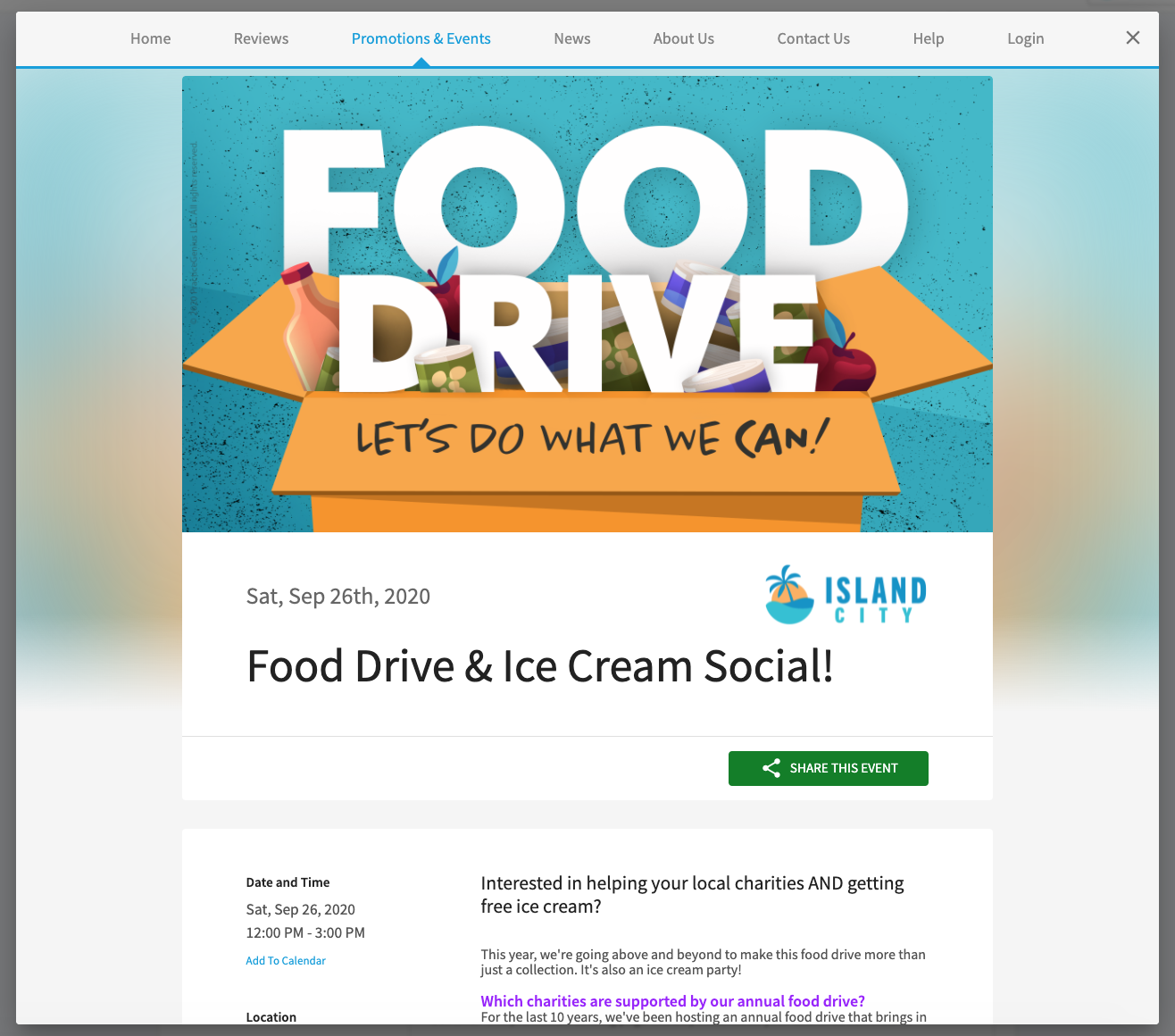 Publish Your Promotion
Finally, you can set your Publish Date.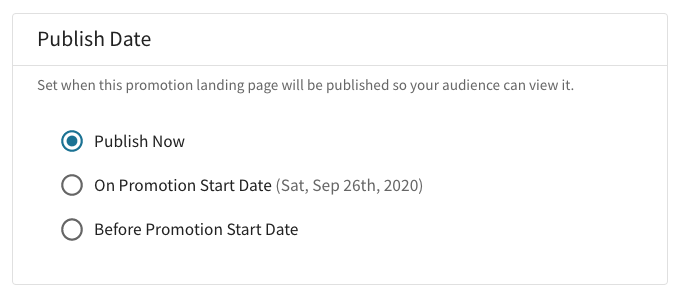 Publish Now


Make your event viewable now, even if the date it actually occurs is in the future.

On Promotion Start Date


Keep your event invisible until the date that it starts.



Before Promotion Start Date


Make your promotion viewable on a specific date prior to the date it actually occurs.
Save as Draft or Publish
If you're ready to broadcast your promotion to the world, click Publish! Don't worry – if you need to update your promotion in any way after it's published, you can always edit it later (just be sure to edit any social or email notifications you create).
If you're not ready to publish, click Save As Draft.

If publishing, a popup will appear.
Choose either Exit to return to the main promotions dashboard, or Build Excitement if you'd like to go on to setting up the social and email notifications for this promotion.