Facebook is a great way to engage both current and prospective clients. Even better, connecting all of your Facebook pages to the Hub only takes 5 steps!
Step 1: Navigate to your Facebook Settings
Start by clicking the Manage Tab, followed by the Social Integrations link.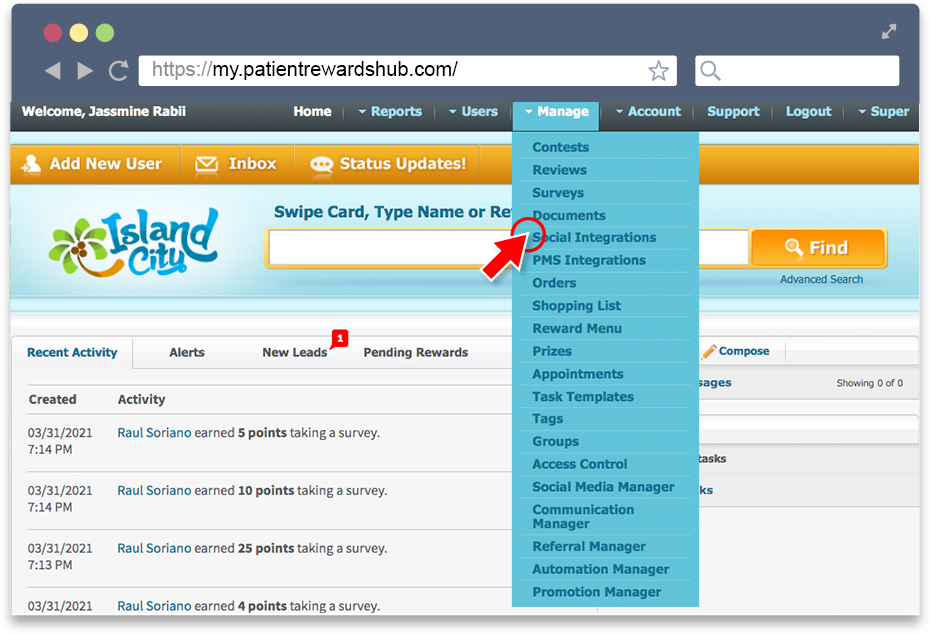 Step 2: Check Your Facebook Connection
Here you will be able to see whose Facebook account is currently providing the Hub with access to your business' Facebook pages.
If this person is listed as either an Admin or an Editor on all of the Facebook pages you would like to connect to the Hub, then go to Step 3.
If they are not, click on the arrow at the right so that you can disconnect their account and replace them with someone who is.
To change the account, click Disconnect.
Once they are disconnected, you can connect a new person's account by clicking Connect and following the prompts that appear.
Step 3: Choose Which Pages to Connect
Here you can see how many pages are currently visible to your Hub, and how many of them are active.
Click on the arrow at the right to update which are active.
If a page is visible to the Hub (shown on the list), then you can make it an active Hub connection by clicking the toggle next to its name. Note that when you activate a page, it is now active across your Hub. You can go into different areas of the Hub (like Social Media Manager) if you'd like to turn off certain functionality.
You can also visit the page itself to ensure that it is the correct page by clicking the three dots to the right.
If you would like to delete the page from the list and make it invisible to the Hub, click Remove.
This will only make it so that the Hub can no longer see the page. It will not remove it from the list of pages that your Facebook account has admin- or editor-level access to in Facebook.
To add a Facebook page option to the list, click Add Facebook Page.
Click Edit Settings.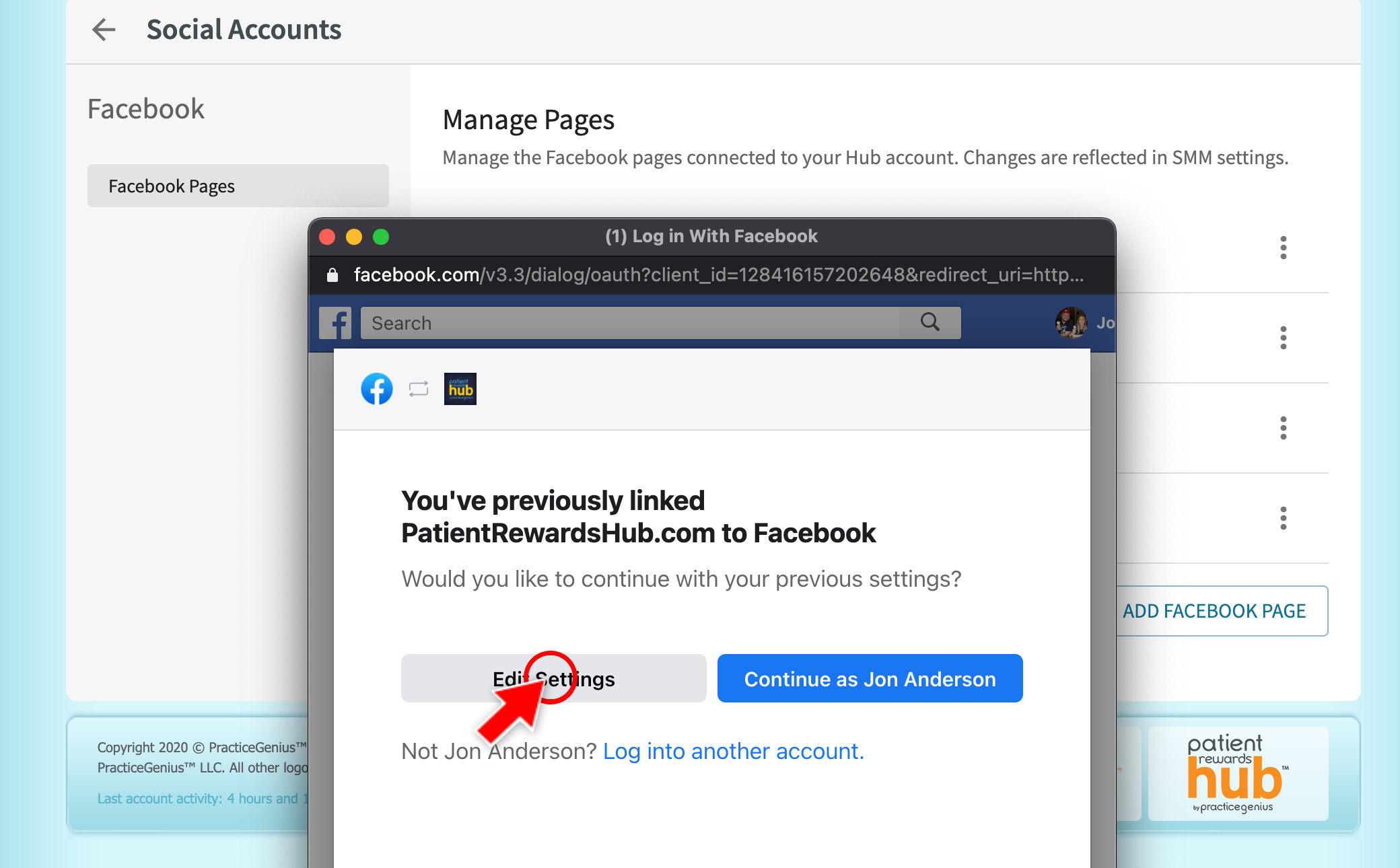 Check the boxes next to the pages you would like to make visible to the Hub.
If you do not see the page you're looking for here, it may be because the person whose Facebook profile you currently have connected to the Hub is neither an Admin nor an Editor of that page. You can either connect someone else who is, or go to Facebook and add your currently connected person as an Admin or Editor.
Click Next once you have checked the pages you would like to make visible.
Toggle Yes or No on the different permissions you would like the Hub to have for these pages.
Click Done once you have adjusted your permissions.
Finish by clicking OK.
Step 4: Map Your Facebook Locations
To ensure that your reviews appear on the right Facebook pages, map your locations by clicking on the arrow next to Location Mapping.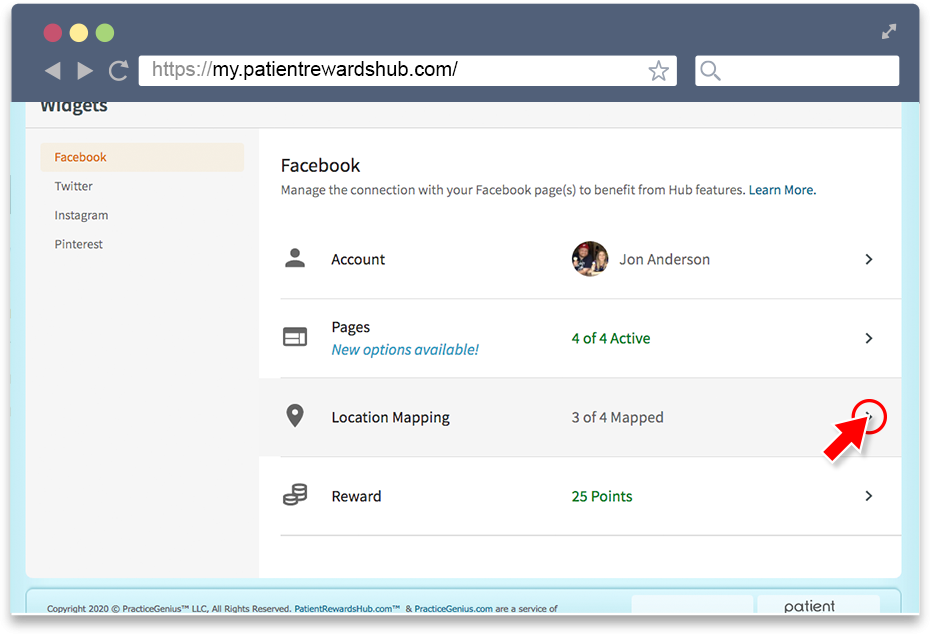 On this page, you will see your business locations listed on the left. Use the drop down menus on the right to designate which Facebook page is associated with each location.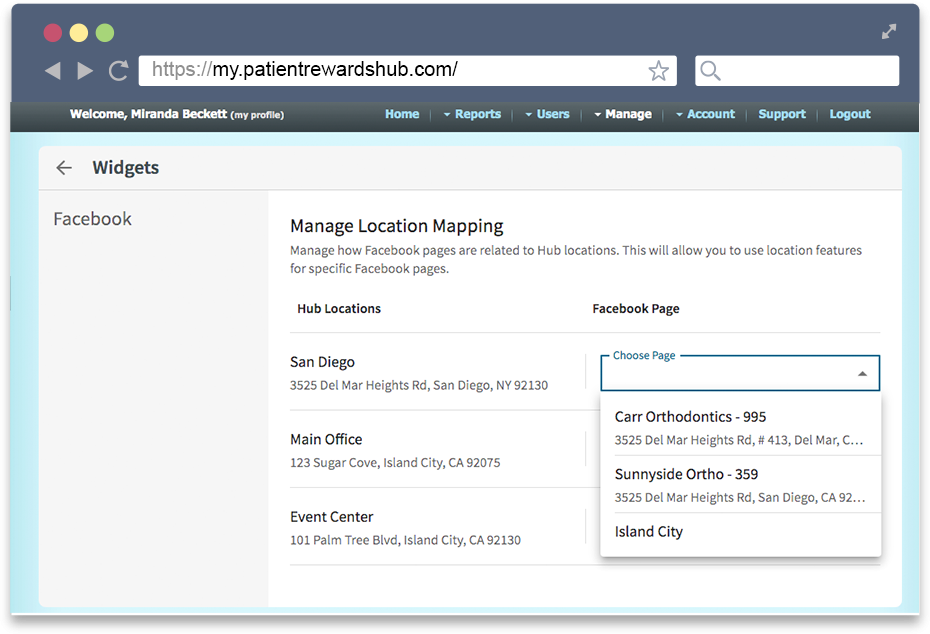 If you ever want to double check that you've associated the correct Facebook page, you can click the dots followed by Go to Page.
If you would like to un-map a location to a Facebook page, click Reset so that you can link a new location.
More than one location can be mapped to the same Facebook page if you prefer.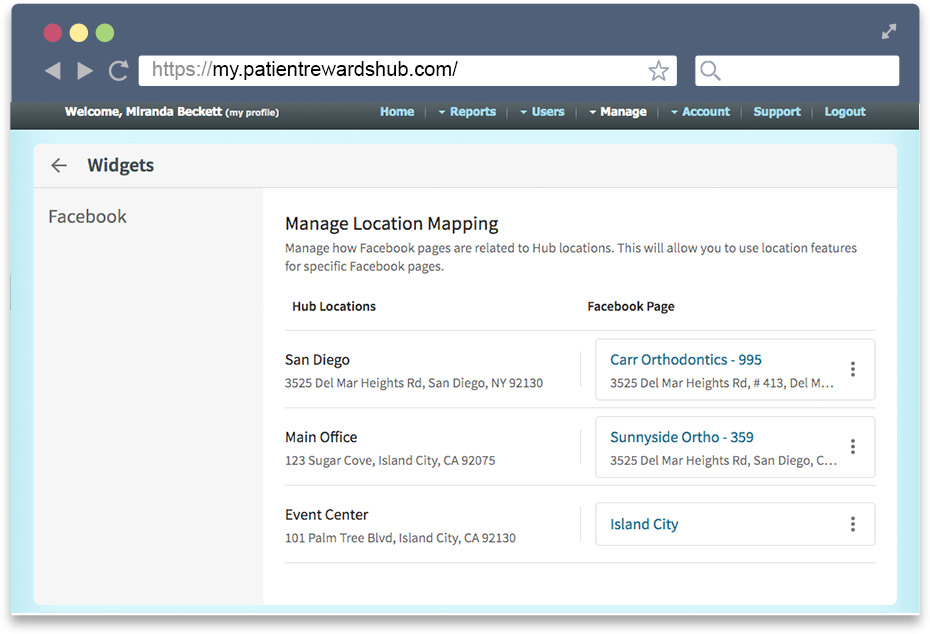 Step 5: Select Your Engagement Reward
You can set up the reward your members can receive for liking your Facebook pages by clicking the arrow shown below.
Click Select Reward Item.
Select the Reward Category and the Reward Item you would like to add. Then click Select.
Well done! Now your members will get points automatically whenever they click the Like Us On Facebook button in the Hub.
Please note that if multiple pages are connected, the member's like will be added to whichever page currently has the most likes.
Step 6: Set Up Your Hub Tabs
Finally, if any of the Facebook pages you have activated in the Hub have 2000 or more likes, you can add Hub Tabs.
Click the arrow next to Hub Tabs to start.
Click Add to Page. This will show the pages that are eligible for Hub tabs.
After you connect your Hub tabs, visitors to your Facebook page will have easy ways to see all the reviews you've received from the Hub, access your Hub contests, and send you Contact requests that will automatically generate as new leads in your Hub.
To see your Hub tabs, go to your Facebook page as a visitor and click the arrow next to More.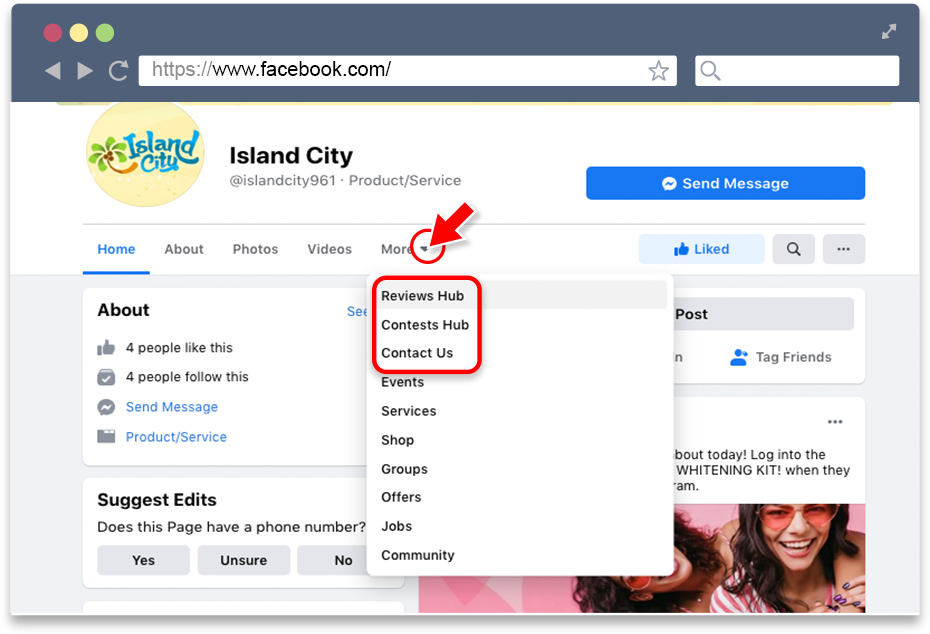 Reviews Tab
The Reviews Tab is an additional way to show off all your positive praise! All published reviews, both featured and non-featured, are posted in the Reviews Tab.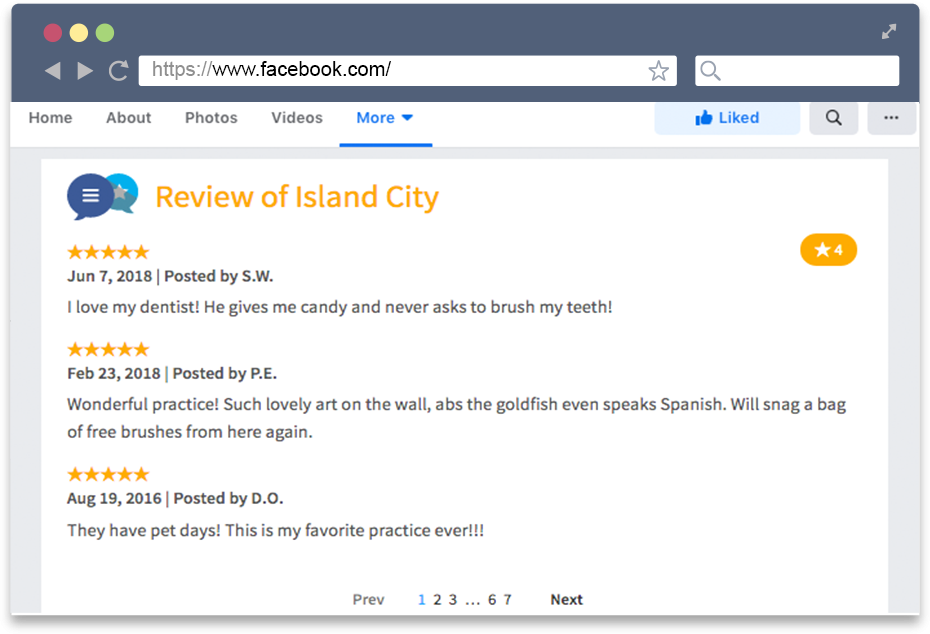 Contests Tab
The Contest Hub Tab automatically displays the currently running contest from your Hub along with important info such as the contest's end date, winner and participant prizes. Members can click Enter Contest which directs them to the Hub so they can participate. Visitors also have the ability to download and print the contest flyer in PDF format.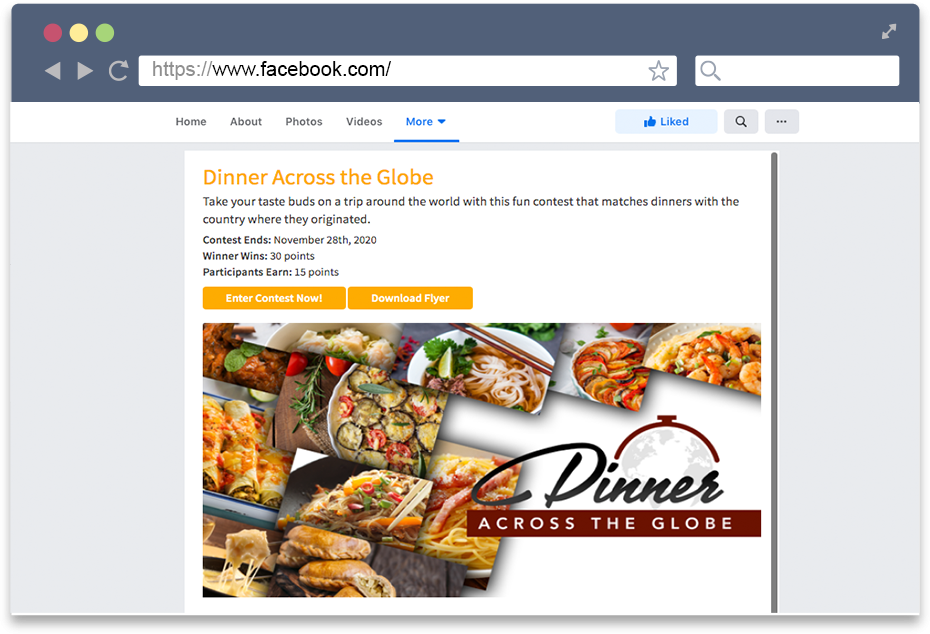 Contact Us Tab
The Contact Us Tab is a simple, easy to use lead generation tool. Potential leads fill out the form and click submit. In your Hub, a lead profile is automatically generated and you are notified via email depending on your notification settings.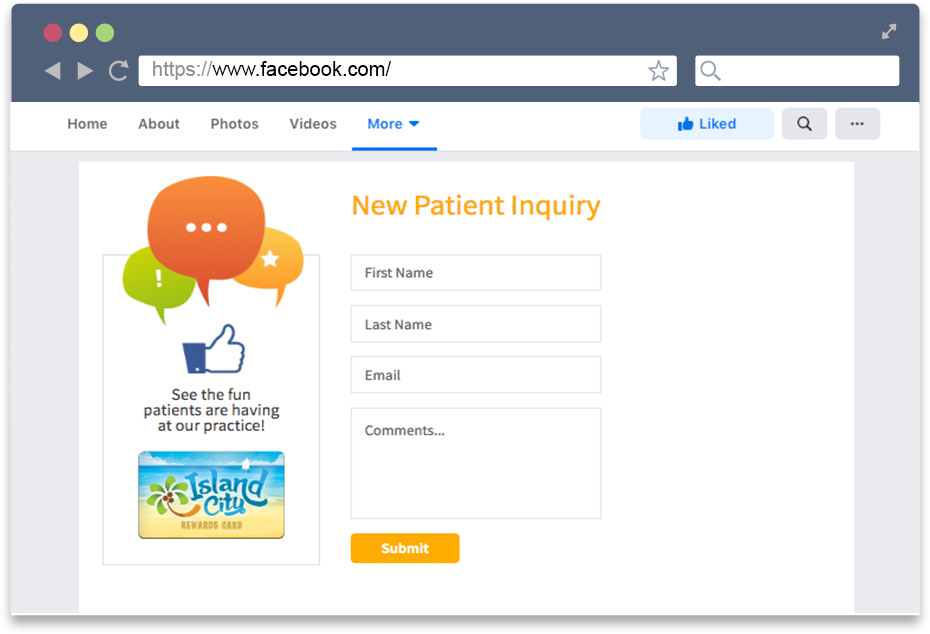 Done!
You have successfully connected your Facebook pages, installed your eligible Hub apps, and set up auto-points for patients who like your pages. Now you can go remind your members of ways to earn points through your Facebook Pages!