To manage the reward items your staff users give out, please go to Manage>Reward Menu.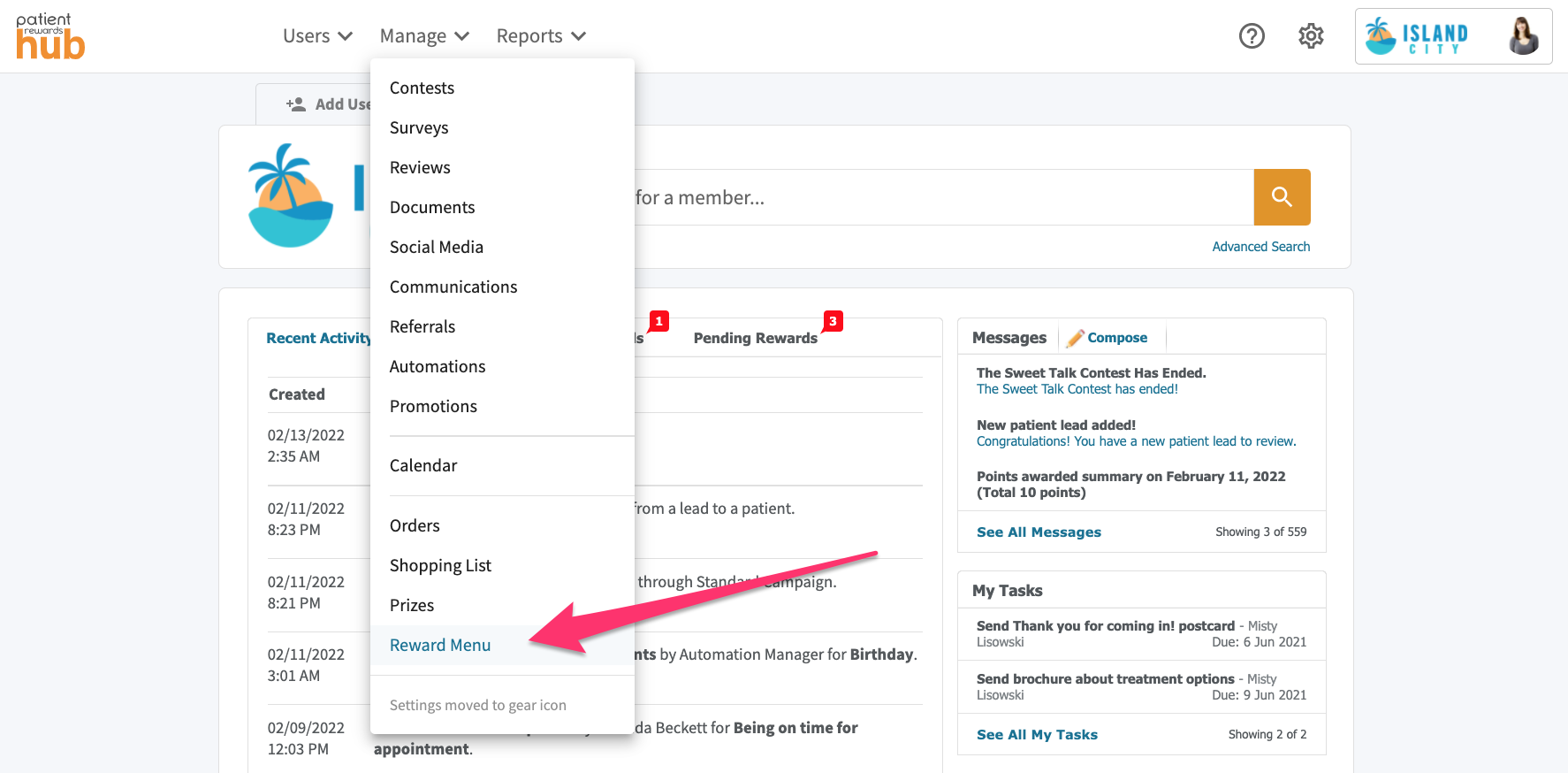 From here, you can add reward categories, add reward items, and reorganize these items to your preference.
Add Reward Item
When you create or edit a reward item, you'll have the ability to choose which Groups will see them. Offering different reward items to different groups will help you achieve your behavior modification objectives and marketing goals.
To begin, click the "Add Reward" Item button.

In the blank boxes, enter the description of the reward and the point value, then assign the reward category to a specific group of members (i.e. Team Member, etc) using the drop-down menu.
The colored boxes below these fields represent Groups that you have created (if you have not created a group yet, click here to find out how). By checking/unchecking the boxes, you can set permissions for certain groups to have access to this reward item. You can also hover over the boxes to see more details about each of them, including their descriptions, features, and member counts.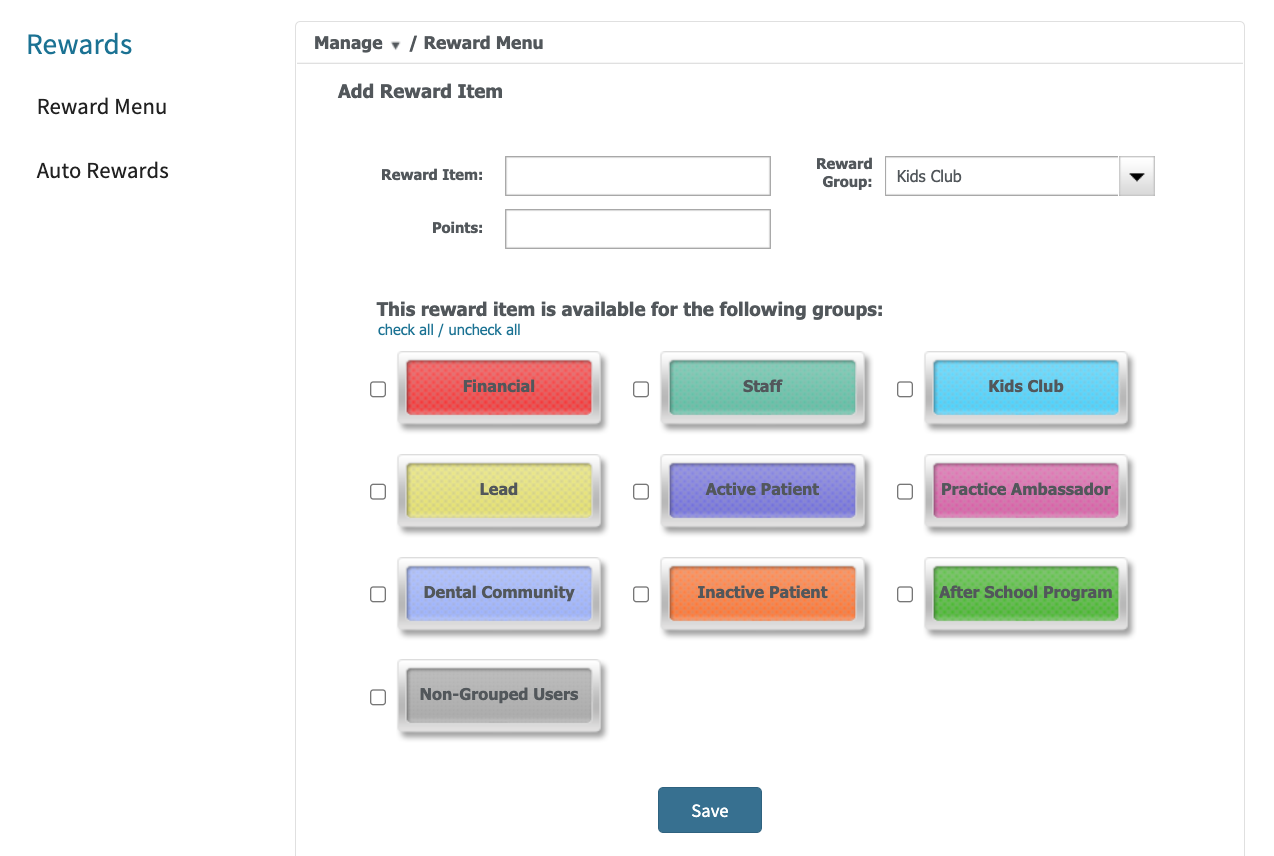 When you're finished, click "Save" to submit the new reward item.
Edit Reward Items
If you would like to change the Name, Point Value, Category or group permission of a particular reward item, simply click on the "Edit" link next to the item.
Once you are finished editing, click on the "Save" button. If you'd like to make the reward an active or inactive item, click the appropriate bullet in the item's row.
Add Reward Category
Click the "Add Reward Category" button.
Enter the new Category Name in the blank field and click "Save". This will create your new category.


Reorder Categories And Items
Click "Reorder Rewards Groups and Items".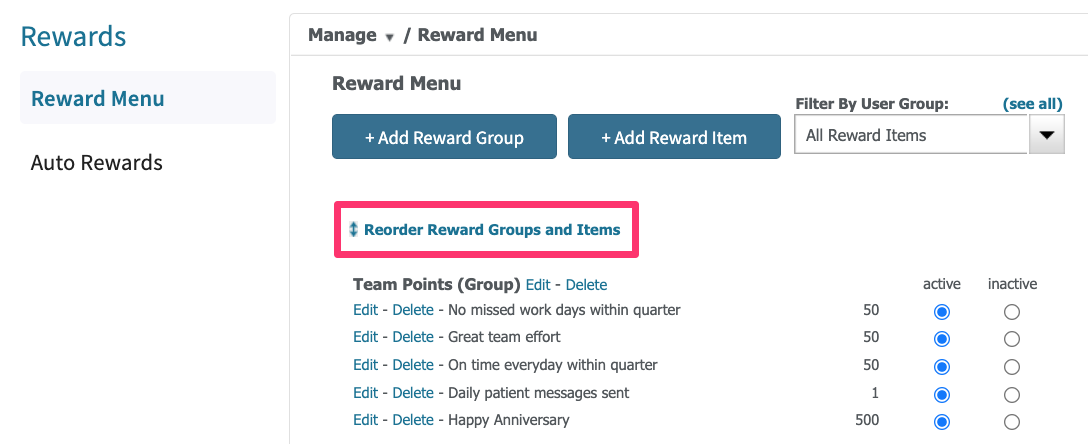 From here, you can organize all of your reward items and/or reward categories to how you want them viewed on the page. Simply rearrange the order of categories by clicking and dragging an entire category to the position you want.
You can also click and drag a single reward item using the blue icon next to the item to rearrange it within its current category or place it into a new category. When you've successfully rearranged an item, you will see a message appear in a green box saying "Your new sort order was saved!" When you are finished, click "Done" at the bottom of the screen.
To allow your staff users to award miscellaneous points, please navigate to the "Misc Item" section at the bottom of the reward menu. You may choose how many points are allowed to be given before admin approval is needed or you may inactivate the option to remove it all together.