In the Social Media Manager, you will find thousands of pieces of fun and engaging content ready to be posted to your social media pages.
The Hub also makes it easy for you to announce new contests, surveys, promotions, referral campaigns, reviews, and even your own custom content!
In this article, we'll review how to:
Schedule New Content
Add Your Own Content
Choose Your Social Media Channels
Automate Program Activity Posts
Adjust Your AutoPost Settings
Managing Content on your Calendar
Schedule New Content
You can schedule any piece of content in the Content Library by going to Manage > Social Media.

Next, hover over the piece of content you'd like to schedule and click on Schedule.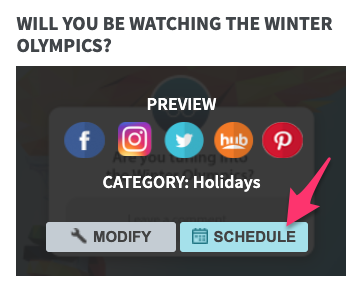 Choose when you would like the content to post, and how often it should repeat, then clicking Save.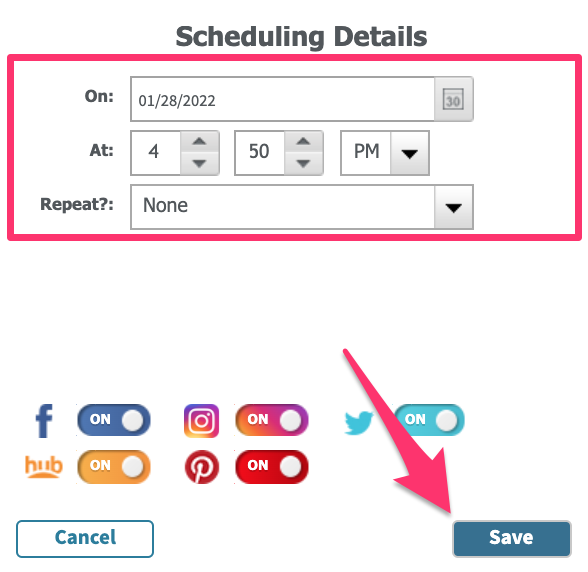 Add Your Own Content
If you would like to add your own content to the Hub, click Add Content.

Choose your content's category and type.

Upload your content and click:
Save to save your post in the Content Library
Save & Schedule to publish your post immediately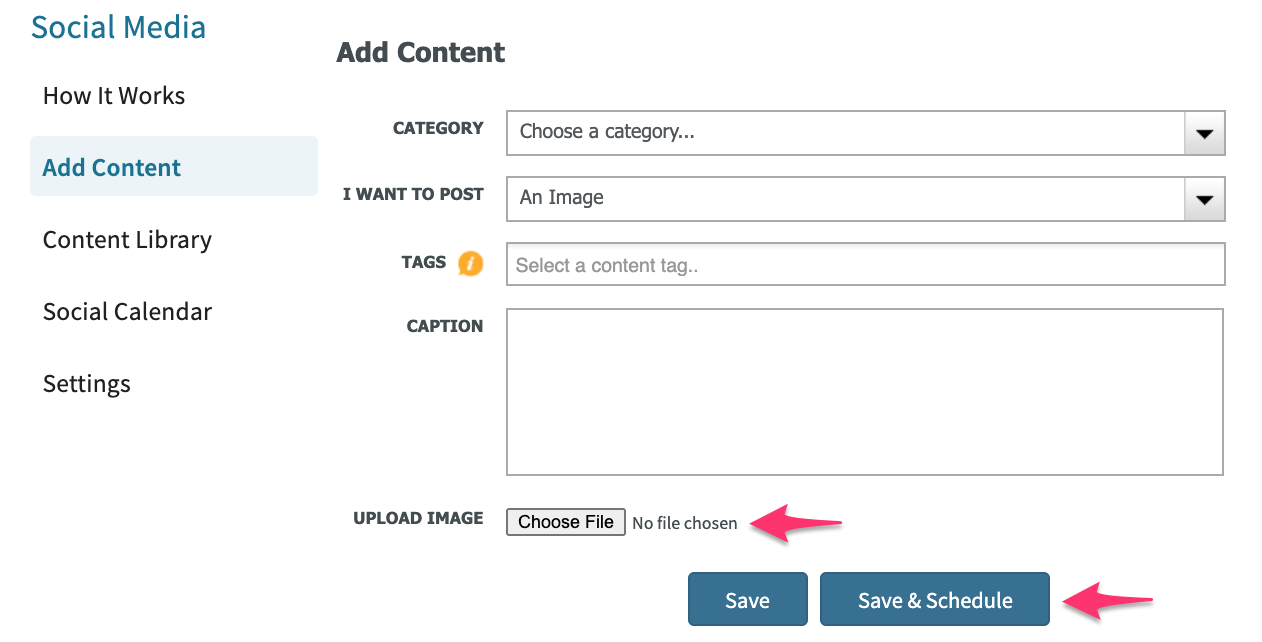 Choose Your Social Media Channels
You can choose which social media channels your Hub posts can be scheduled on by going to the Settings page.

Check the channels you would like to show, and uncheck the ones you do not want to have as options.
If you haven't connected your Facebook page or Twitter account in the past, then clicking on the checkbox will take you to the corresponding setup pages.
The steps to connect each are outlined in the following articles:
How to Link Facebook to the Rewards Hub
How to Link Twitter to the Rewards Hub
Automate Program Activity Posts
Keep your audience informed of what's happening in your Hub by setting up automatic posts that will be added to your Content Library.
You can do this by clicking the card of the Program Activity you'd like to create posts for.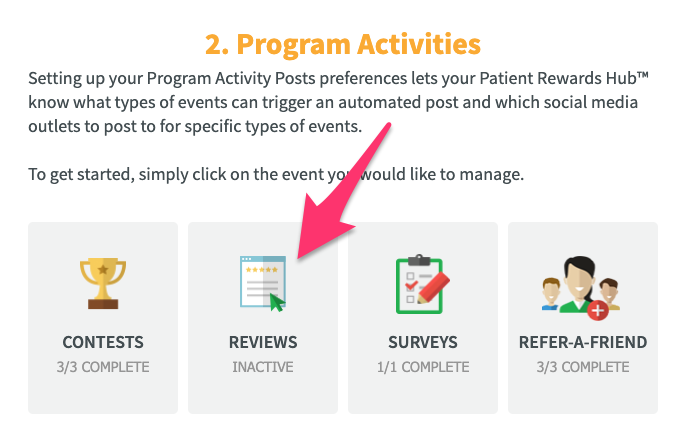 Then complete the steps that appear below to set up the posts that will be added to your Content Library.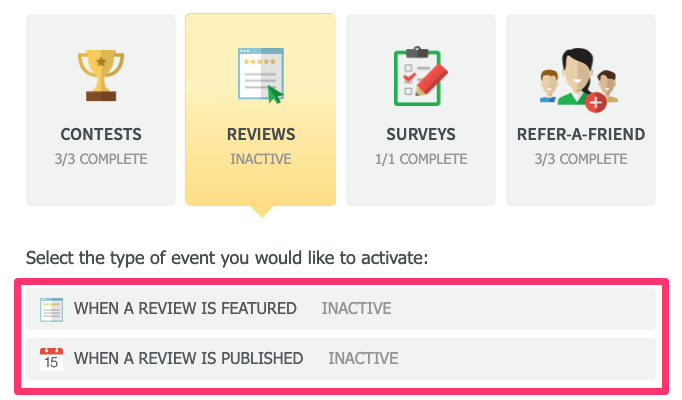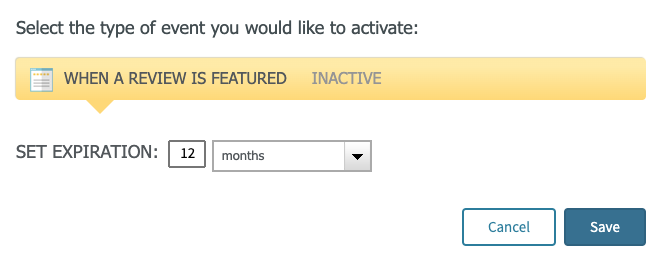 Adjust Your AutoPost Settings
Instead of manually approving each post, you can adjust your AutoPost settings so that your Content Calendar is always filled with engaging posts your members will love.
Go to the AutoPost settings to select which channels should receive regular content.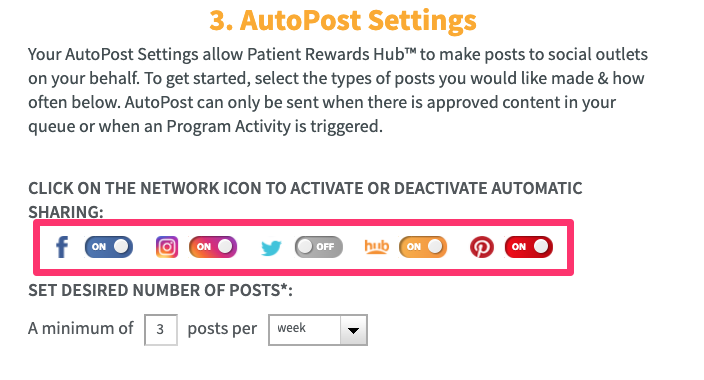 Then set how frequently you would like your posts.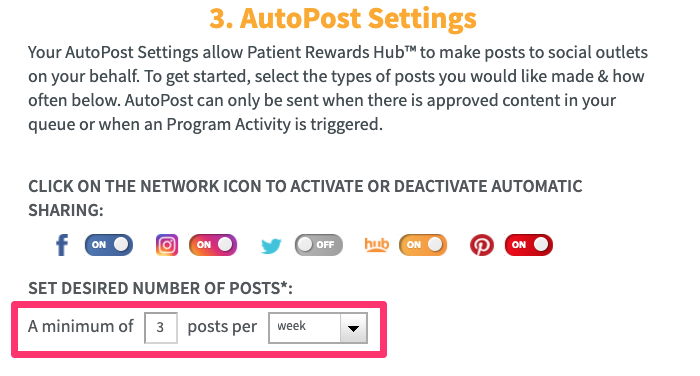 Finally, adjust the sliders and check the boxes to create a unique mix of content that best suits your audience. Here are some quick tips:
Sliders: A selection of 0% means that type of content would never automatically be posted, while 100% would get posted most often.


Auto Approve: Checking the Auto Approve box next to a category allows all currently approved content in the category as well as content added to this category in the future to be added to your Content Calendar.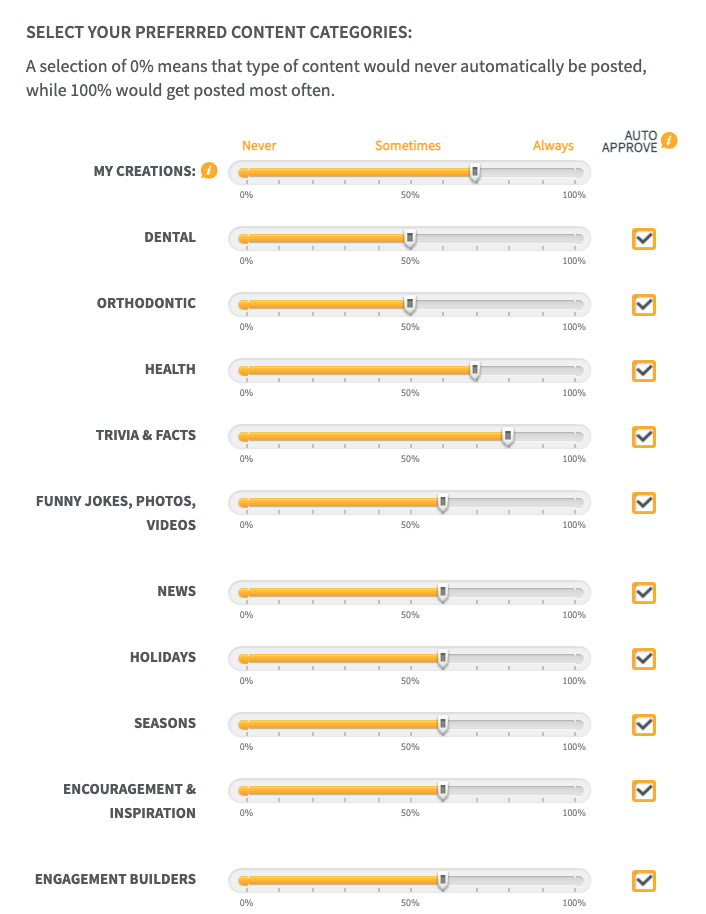 Managing Content on your Calendar
To remove content from your calendar, simply do the following:
Go to the Content Calendar




Click the date containing the content you would like to remove




Use the selections that appear to either save the content for later (this will return to the content to the library so that AutoPost can schedule it again in the future) or remove it from your approved library (this will permanently prevent it from being posted by AutoPost in the future)