February's Hub Action Plan is filled with ideas to bring you good luck and good fortune

February marks the beginning of the Year of the Tiger, so we've packed this month's Hub Action Plan with marketing ideas that will start your lunar year off with a roar.

Send an in-app message to encourage members to check out this month's contests and surveys. Then keep them engaged with new ways to earn rewards, like wearing red or pink to their office visit to celebrate Valentine's Day.

| | | |
| --- | --- | --- |
| | | |
| | ACTION PLAN QUICK LINKS | |
Use the Hub to promote a Girl Scout Cookie drive to benefit the military, first responders, or your local food bank. Members can held spread the word with a push of a button. Then send an automated Valentine's wish with instant points to really sweeten their month.
It's all in this month's Hub Action Plan, and it can be in your Hub in mere minutes. Let's leap in! 🐯
COMMUNICATIONS

The Communications tool makes it easy to stay in touch with members in between visits with professional graphics and messages that can be sent as emails and in-app notifications. Messages can be sent instantly, or scheduled for future release with or without a recurring feature. Set up templates to make sending follow up messages or care instructions easy peasy.
Use the sample message below to let members know about new ways they can earn points this month. Adjust the copy as needed if you choose not to hold a cookie drive or award points for Valentine's Day.

💡 Tip: Schedule this message for January 31st so it arrives one day before the notification of your new contest
Subject: Good Fortune Is Heading Your Way!

Body Text:

Good Fortune Heading Your Way





Did you know the Lunar Year begins February 1st? What a perfect excuse for a "reset" if 2022 hasn't started out the way you'd hoped!

According to the Chinese zodiac, 2022 is the Year of the Tiger. Those born in the Year of the Tiger are said to be brave, competitive, unpredictable, and confident.

If you're a "Tiger," we've got a great contest in the Hub to appeal to your competitive side. For the rest of us, it's just plain fun.

We've also added new ways to earn points with survey questions, and new rewards – like participating in our Girl Scout Cookie Drive. Watch for more information about how to donate Girl Scout cookies to our military, first responders, and local food banks later this month.

And speaking of points, we have a sweet surprise coming your way on Valentine's Day.

It looks like the Year of the Tiger may just be your year! 🐯

image is attached to the end of this article
AUTOMATIONS

Automations set up your Hub to instantly welcome members to your rewards program and award them points when they register their accounts. Additional points can be automatically awarded for reviews, mobile app logins, birthdays, and more. QR Code automations allow members to scan and earn points for office visits and fun scavenger hunts. Let your Hub do the heavy lifting by setting up all available automations.
A holiday automation for Valentine's Day is a sweet way to wish everyone a happy holiday and award rewards points to celebrate. Edit the number of points or message to suit your needs, and schedule the automation for February 14th.

💡 Tip: Schedule your automation at least one day in advance so that it arrives by 9am on the holiday
Subject: Here's Something SWEET for You!

Body Text:

Happy Valentine's Day, [Recipient First Name]!

May your day be filled with everything SWEET – beginning with [Points] to say thanks for making us smile every time you visit!

💝 Your friends at [Practice Name]
PROMOTIONS

Promotion Manager is the perfect tool to help spread the word about all of your special events and offers. You'll find professionally designed graphics, or upload your own. Once published, Promotion Manager really gets to work – creating a landing page, in-app message, social media posts, and print-ready flyers you can share with members and the public. And it can all be created in minutes!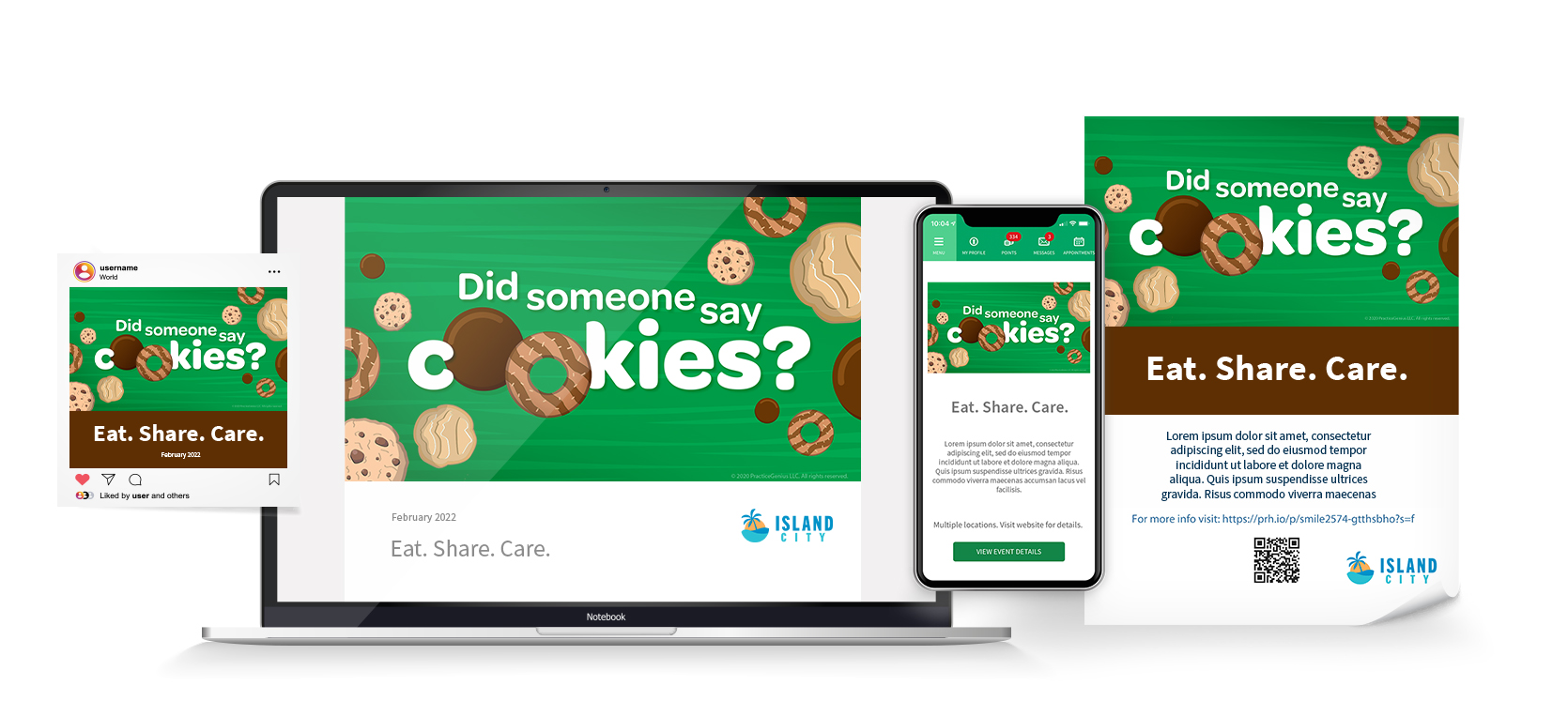 Support your local Girl Scout troop and your community at the same time
when you hold a Girl Scout Cookie Drive from mid-February through mid-March.
Donations can benefit first responders, your local food bank, or troops overseas.
>>>> 🛠 Click here for instructions to build this PROMOTION 🛠 <<<<
CONTEST

Contests are a great way to add fun to your rewards program, automatically add a few rewards points to participants' profiles to maintain member engagement, and keep you top-of-mind.
💡 Tip: Notifications are sent at the start of every new contest so stagger their start dates to avoid multiple notifications in a day
| | | |
| --- | --- | --- |
| | Schedule the Chinese Zodiac Odd One Out contest for a fun way to celebrate the Chinese New Year by finding the zodiac symbol that looks different than the others. | |
Title: Chinese Zodiac Odd One Out

Start Date: 2/1

End Date: 2/28

Winner Prize: 100 points

Participation Prize: 2 points
SURVEYS

Surveys are an easy way to gather feedback from members while adding to the fun of your rewards program. Ask multiple choice or open ended questions, or have your members rank their opinions on a scale.
💡 Tip: Notifications are sent at the start of every new survey so stagger their start dates to avoid multiple notifications in a day
Valentine's Day was first celebrated in which country?
• South Africa
• France
• Ancient Rome
• Russia
• America


answer: Ancient Rome
Which President first officially recognized Black History Month?
• Dwight Eisenhower
• Barak Obama
• James Carter
• Gerald Ford
• Harry Truman


answer: Gerald Ford
Which event are you most excited to watch in the 2022 Winter Olympics

?
Who do you predict will win Super Bowl LVI

? 🏈
| | |
| --- | --- |
| survey images are attached at the end of this article | |
SOCIAL MEDIA

Social Media Manager makes managing your Facebook, Instagram, Twitter and Pinterest accounts quick and easy. Approve articles from its Content Library, mix in some of your own content if you choose, review the Social Calendar, and you've got a month's worth of social media presence in minutes.
Here are six new articles to get your

February

calendar started: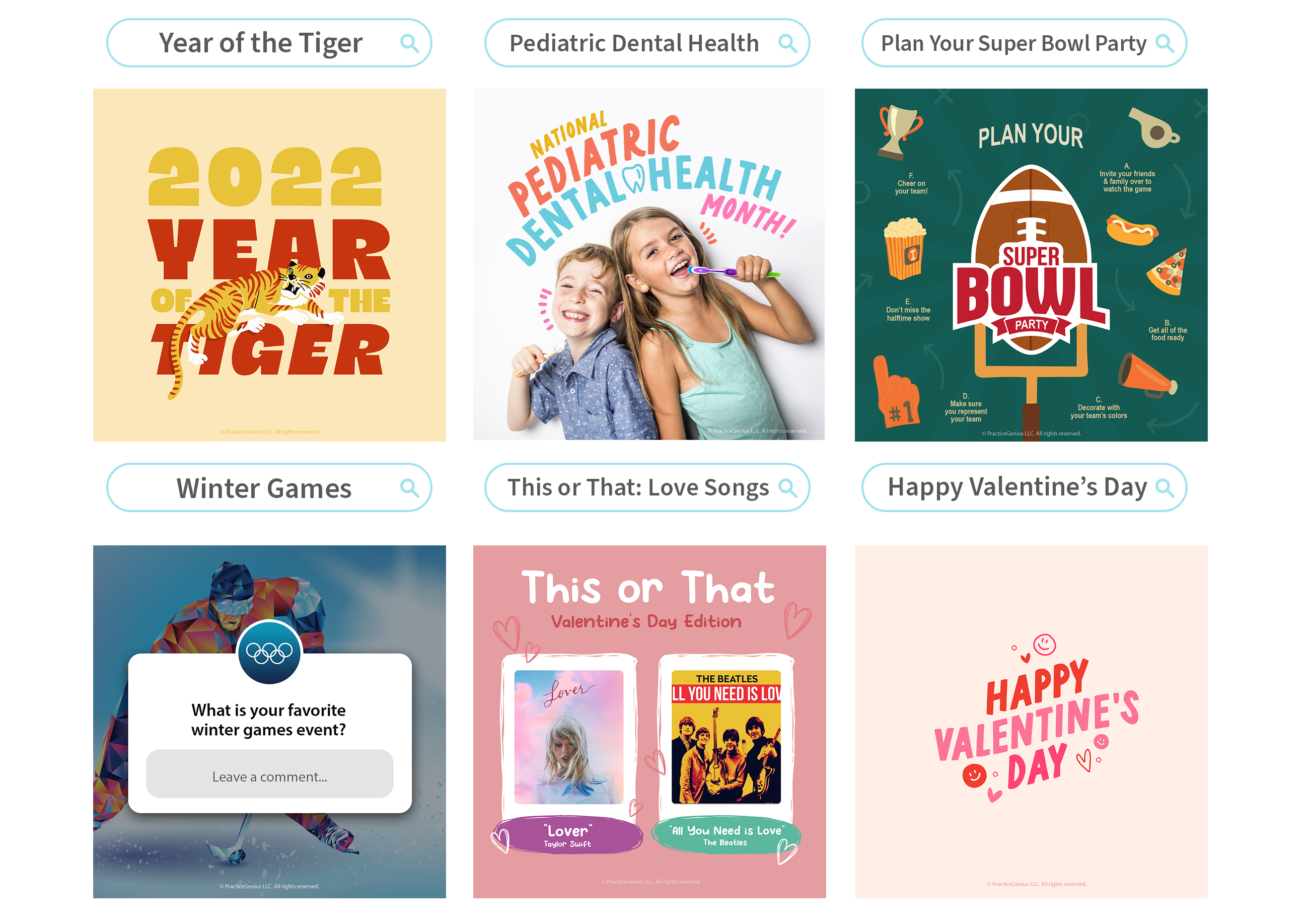 REFERRALS

Seasonal referral campaigns are a great way to remind members that you offer rewards for referrals. We recommend creating a new seasonal campaign once every 2-3 months. Your standard campaign will automatically begin again once your standard campaign ends.
💡 Tip: Check Referral Manager to make sure you have a standard or seasonal campaign running so you never miss a referral
| | | | | |
| --- | --- | --- | --- | --- |
| | | | If you scheduled a quarterly seasonal campaign in December, you're all set to go until next month. But if it's been some time since you reminded members to refer their friends to you, here's a new Valentine's-themed graphic you'll find in Referral Manager in your Hub. | |
REWARDS

Adding new rewards to your Reward Menu can generate more interest from members to earn points. Holding a special event soon? Award points to members who bring a friend with them. Or hold theme months and award points to members who participate. Add a "word of the month" to your social media or send the word in an in-app notification; then reward members who can recite the word of the month at their next visit.
February Rewards
Donate to Girl Scout Cookie Drive ... 10 pts
Wear pink or red to your office visit ... 5 pts

Looking for a handy list of weekly, monthly and quarterly admin tasks in the Hub?

Download the Hub Check at the end of this support article for a quick and easy reference.

Many of these features – like contests, surveys, referral campaigns and promotions – can be scheduled up to a year in advance, making it easy to breeze through these checklist.

Support articles for these features and more can be found right here in your Help Center.



Now is the perfect time to plan out your marketing initiatives for the year and the Hub is here to help! On January 13th we hosted a webinar to help jump-start your planning, including:

How to use the newest Hub features to connect and engage with your members
Marketing ideas that are easy and effective
A peek at new features launching in 2022