January's Hub Action Plan will get your marketing movin' and groovin'!

The new year is the perfect time to jump start your marketing with new ideas for your rewards program. Check out this month's Hub Action Plan for New Year's resolution ideas you can send as an in-app message, contests and surveys to add some playfulness in your Hub, and samples of new social media posts you can schedule for the entire month of January.
If a Polar Plunge is in your future, you can help spread the word by adding this event in your Hub. We've also released a new Movin' and Groovin' graphic in Referral Manager for those who haven't scheduled a seasonal referral campaign in awhile.
We've added new QR code automations for events and Kids Club, as well as new rewards ideas. And don't miss the announcement of a new webinar that will provide a preview of all of the Hub Action Plans and new feature releases for 2022. It's all in this month's Hub Action Plan, and it can be in your Hub in mere minutes! Let's get movin'! 💃🏼
COMMUNICATIONS

The Communications tool makes it easy to stay in touch with members in between visits with professional graphics and messages that can be sent as emails and in-app notifications. Messages can be sent instantly, or scheduled for future release with or without a recurring feature. Set up templates to make sending follow up messages or care instructions easy peasy.
| | | |
| --- | --- | --- |
| | Use the sample message below to provide New Year's resolution ideas while encouraging members to head over to Surveys in the Hub to tell you all about their favorite resolutions: | |
Subject: Goodbye 2021, Hello 2022!

Body Text:


Happy New Year! Making New Year's resolutions is a time-honored tradition, so we thought we'd share some of the top resolutions from 2021:

Doing more exercise or improving my fitness
Losing weight
Saving more money
Improving my diet
Pursuing a career ambition
Spending more time with my family
Taking up a new hobby
Spending less time on social media


We'd love to hear what your New Year's resolutions are for 2022. Head over to the survey section in your Hub to list your resolutions and earn instant points.

Here's wishing you happiness and good health this year!

List source: YouGov, collegelifemadeeasy.com

image is attached to the end of this article
AUTOMATIONS

Automations set up your Hub to instantly welcome members to your rewards program and award them points when they register their accounts. Additional points can be automatically awarded for reviews, mobile app logins, birthdays, and more. QR Code automations allow members to scan and earn points for office visits and fun scavenger hunts. Let your Hub do the heavy lifting by setting up all available automations.
We've added new QR Code Automations to your Hub!

The Kids Club Points - QR Code makes it easy for you to create targeted rewards just for your Kids Club members.

The Event Points - QR Code makes it easy for members to receive rewards right at your events. This will encourage more members to attend, and best of all your staff members won't even need to access your Rewards Hub portal to award points!

Check out this article to learn more about setting up these new automations.
PROMOTIONS

Promotion Manager is the perfect tool to help spread the word about all of your special events and offers. You'll find professionally designed graphics, or upload your own. Once published, Promotion Manager really gets to work – creating a landing page, in-app message, social media posts, and print-ready flyers you can share with members and the public. And it can all be created in minutes!
CONTEST

Contests are a great way to add fun to your rewards program, automatically add a few rewards points to participants' profiles to maintain member engagement, and keep you top-of-mind.
| | | |
| --- | --- | --- |
| | Schedule the Best of 2021 contest to challenge your members' recall of recent events: | |
Title: Best of 2021

Start Date: 1/1

End Date: 1/31

Winner Prize: 100 points

Participation Prize: 2 points
SURVEYS

Surveys are an easy way to gather feedback from members while adding to the fun of your rewards program. Ask multiple choice or open ended questions, or have your members rank their opinions on a scale.
| | | |
| --- | --- | --- |
| | Find out what makes your members want to get up and go with these fun survey ideas: | |
Which is your favorite movin' and groovin' activity?
• Cycling
• Kickboxing
• Swimming
• Skiing
• Dancing
• Yoga
• Running
• Weightlifting
• Housework
| | | | | |
| --- | --- | --- | --- | --- |
| | | | What is the song that makes you want to get up and dance? 🎶 | |
| | | | | |
| --- | --- | --- | --- | --- |
| | | | What are some of your New Year's resolutions for 2022? | |
| | |
| --- | --- |
| survey images are attached at the end of this article | |
SOCIAL MEDIA

Social Media Manager makes managing your Facebook, Instagram, Twitter and Pinterest accounts quick and easy. Approve articles from its Content Library, mix in some of your own content if you choose, review the Social Calendar, and you've got a month's worth of social media presence in minutes.
| | | |
| --- | --- | --- |
| | Here are six new articles to get your January calendar started: | |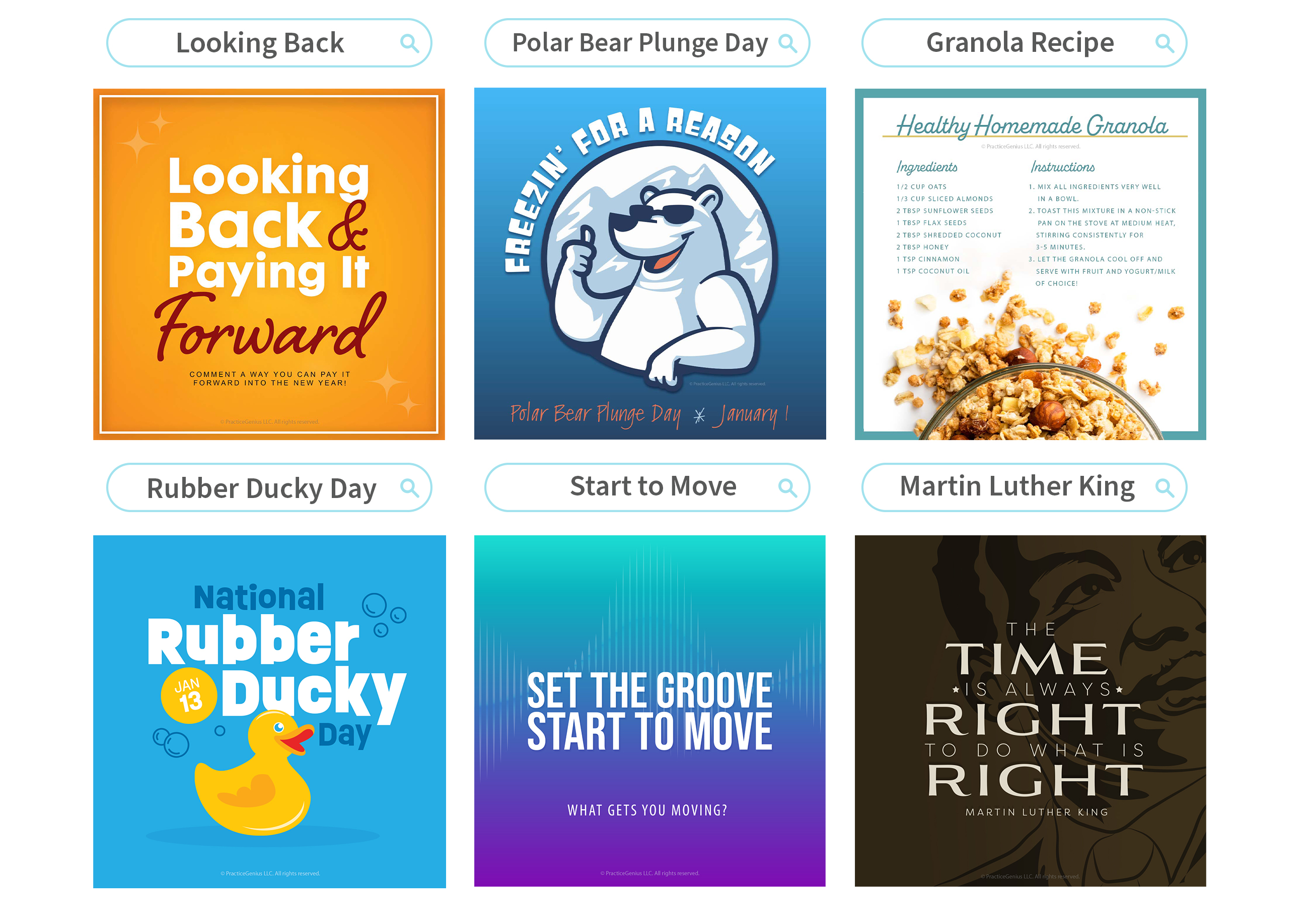 REFERRALS

Seasonal referral campaigns are a great way to remind members that you offer rewards for referrals, so we recommend creating a new seasonal campaign once every 2-3 months. Your standard campaign will automatically begin once your standard campaign ends.
| | | | | |
| --- | --- | --- | --- | --- |
| | | | If you scheduled a seasonal campaign in December, you're all set to go. But if it's been some time since you reminded members to refer their friends to you, it's time to Get Movin'! Here's a new graphic you'll find in Referral Manager in your Hub. | |
REWARDS

Adding new rewards to your Reward Menu can generate more interest from members to earn points. Holding a special event soon? Award points to members who bring a friend with them. Or hold theme months and award points to members who participate. Add a "word of the month" to your social media or send the word in an in-app notification; then reward members who can recite the word of the month at their next visit.
January Rewards

Participating in the Polar Plunge ... 50 pts
Sharing your favorite healthy recipe ... 5 pts

WOW in 2022 With the Hub Kickoff Meeting!

January 13, 2022 at noon MST

Join us for a special webinar as we focus on marketing planning for 2022. Here's a peek at some of what you'll learn:

Tips for using the Hub to increase reviews and referrals
Upcoming themes for 2022 Hub Action Plans
New Hub features and enhancements coming soon

All registrants will receive a recorded version of the webinar