There are 3 ways to create a member in the Hub:
1. Add a New Member Manually
To manually create a new member profile in the Hub, simply do the following:
Click the Add User button




Fill in the new member's First Name, Last Name, and Status Tag




Connect a card, or click Skip adding card




Click Add Member




Invite the member to join the Hub
2. Add a New Member via an Integration
Dolphin, Cloud9, Tops, Oasys, and Open Dental have integrations with the Hub that automatically create member profiles in the Hub. Please reach out to us at support@practicegenius.com to get started!
3.Convert a Lead to a Member
Members can also create their own profiles!
These profiles are classified as Leads in your Hub, and they:
Can

earn points

Can

connect with other members to create Linked Families

Cannot

redeem points
If you would like to make a Lead a Member, simply click the Convert to Member button on their profile.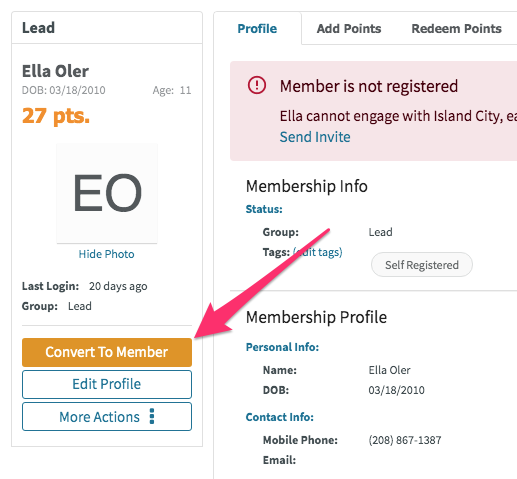 Then click Confirm.