From Halloween celebrations to social awareness, October's Hub Action Plan is filled with fa-boo-lous ideas you can use in minutes!

October is Bullying Prevention Month, Ortho Health & Dental Hygiene Months, Halloween, and more – and your Hub Action Plan has got it all! From in-app messaging, contests, and referral campaigns that promote kindness, to a Halloween candy buy back event and themed social posts, you can add fang-tastic marketing content into your Hub in mere minutes.

The Hub's notifications features will keep your members up to speed on new contests, surveys, referral offers and events once they're scheduled, so spice up your Hub with new content and have a spooktacular month! 👻

Scheduling a seasonal campaign with a new offer, graphics and content puts your referral program back in front of your members.

This Choose Kindness campaign encourages members to refer friends and family to share and receive a special offer. Emails, in-app notifications, and social media posts are automatically sent on the day the campaign begins.
––––––––––– 🛠 Click here for instructions to build this REFERRAL CAMPAIGN 🛠 –––––––––––
Subject: Trick or Treat. Do Something Sweet. 🍭🍬🍭

Body Text:

Kindness Matters.

Do Something Sweet.


October is Bullying Prevention Awareness Month. Across the world people are coming together to raise awareness for bullying prevention. How can you help? Of course you should report acts of bullying when you witness them, but you can have an impact even if you don't see someone being bullied – simply by being kind.

Performing acts of kindness is free and has a positive ripple effect. So before we trick or treat, let's do something sweet! Here are some ideas:

Write an anonymous inspiring note to someone in your school or at work that could use some kind words
Donate clothes and you no longer wear to a local charity
Volunteer at a local food bank, animal shelter, nursing home, etc.
Hold the door open for the person behind you
Limit teasing. Sometimes the words we think are harmless can actually be hurtful
Say hello to a classmate you don't normally talk to
Invite someone sitting on the sidelines to join in on your game
Choose first the person who is always chosen last
Give positive feedback in class when someone is making a presentation

If you see someone being kind, be sure to acknowledge their efforts. Encouragement lets people know their kindness matters. What are some of your ideas for spreading kindness and preventing bullying? Let us know at your next office visit to earn bonus rewards points!

The "trick_or_treat_purple.jpg" image for this message is attached to the end of this article

Title: Random Acts of Kindness Contest

Start Date: 10/1

End Date: 10/30

Winner Prize: 100 points

Participation Prize: 2 points
Multiple Choice Surveys:
Which Halloween candies are NOT braces friendly?
• Kit Kat
• Nestle Crunch
• Skittles
• York Peppermint Patty
• Jolly Rancher
• M&M's
• Junior Mints

Be sure to allow more than one answer for this question

halloween_candy.jpg image is attached to the end of this article
Text Answer Surveys:
How could you show kindness to someone you don't know?

kindness.jpg is attached to the end of this article
Scale Surveys:
Do you prefer funny or scary Halloween costumes?

Please see the graphic to the right for instructions on how to set up a scale survey

halloween_costumes.jpg is attached to the end of this article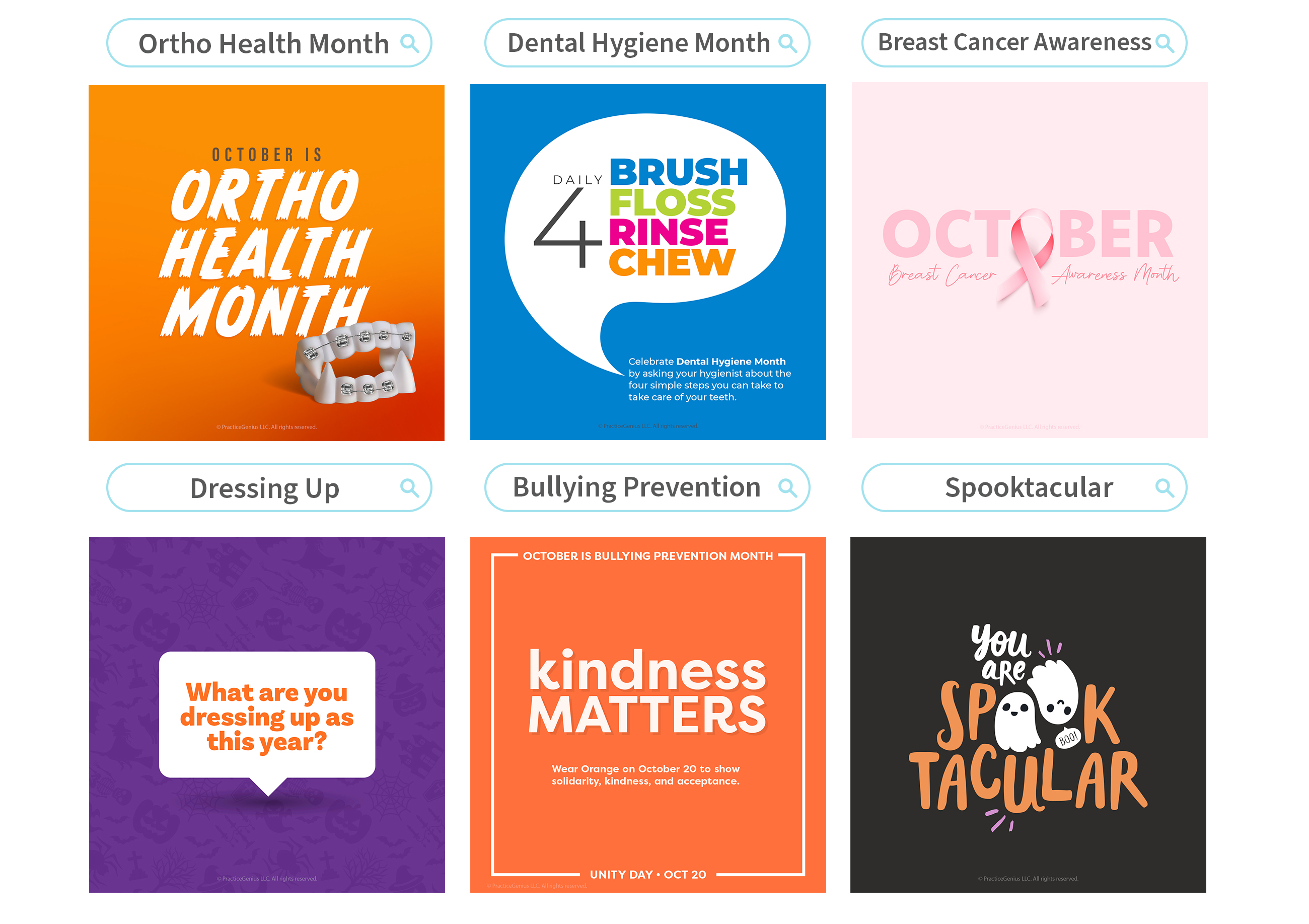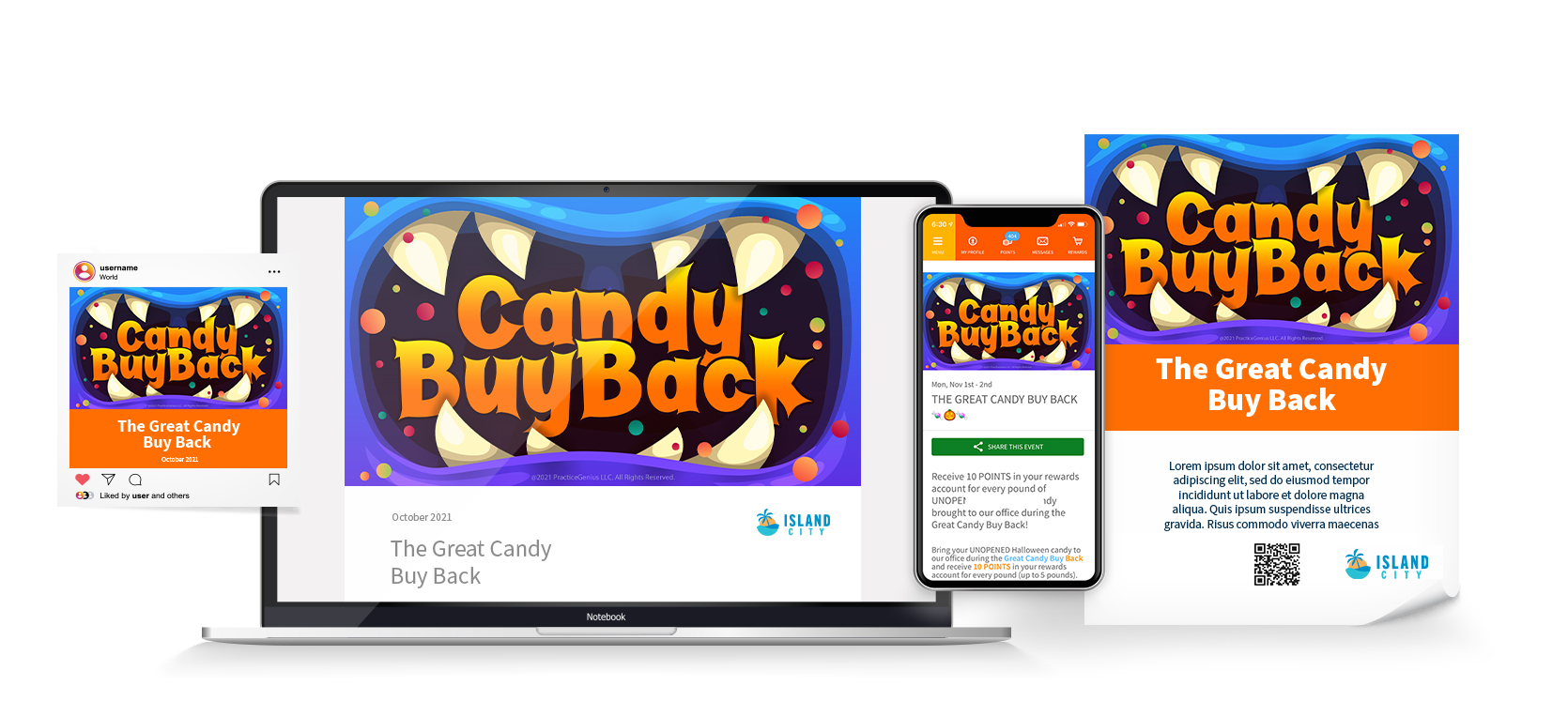 Whether you're a dental office, a learning center, or anything in between, candy buy back programs are a great way to promote healthy habits. When partnered with a donation of the candy to a local or national charitable organization, your efforts also serve to give back to others.
Promotion Manager is the perfect tool to help spread the word, and also serve as a reference calendar all year long. Make your calendar public so that it appears as a landing page on your Hub's microsite, along with a share button so people can help spread the word. Promotions Manager helps you create an in-app message to your members, along with print-ready flyers and posters with more information. And it can all be created in minutes!
––––––––––– 🛠 Click here for instructions to build this PROMOTION 🛠 –––––––––––

Did you know that all contests in the Hub are now mobile friendly?

Every contest can be played in the Patient Rewards Hub or Hubbux apps, as well as online through a browser. You can schedule contests up to a year in advance, and have up to four contests running at one time.

So, schedule away! And let the fun begin! 🏆
_________________________________________________________________________
MORE Monthly Hub Action Plans!
September 2021 | August 2021 | July 2021 | June 2021 | May 2021
April 2021 | March 2021 | February 2021 | January 2021
December 2020 | November 2020 | October 2020 | September 2020
Watch for November's Hub Action Plan to hit your inbox in mid-October!
_________________________________________________________________________