Kick off the fall with fun new marketing content for your Hub!
Teeming with surveys that award points for predicting winners of your favorite ball games, a football mascot matching contest, and new articles for Facebook, Instagram, Twitter, Pinterest, and your Hub, September's Action Plan is a great game plan for increased engagement.
Pile on the fun using Promotion Manager to highlight spirit weeks. Your Hub can help you get the word out with notifications, print material, and even a web page for reference all year long.
It's all in this month's Hub Action Plan, and it can be in your Hub in minutes. Score! 🏈
Subject: Show Us Your Spirit! 🏈 🍁 ☕️

Body Text:

We've Got Spirit!
How About You?


Fall is here and it's time to play! Whether you're looking forward to football, pumpkin spice lattes, or leaves turning to red, orange, and gold, fall is sure to bring new adventures.

We're celebrating fall with new contests, surveys, and ways to earn points in your rewards program. Test your knowledge with the football mascot matching contest, and predict the winner of weekly football games to instantly earn points in your rewards Hub app.

Keep the points coming all year long by participating in our theme weeks. Check out the Spirit Calendar in the promotions section of your rewards account to find a full list of themes for the year. Come to your appointment dressed in the theme of the week, or post a photo and tag us to earn more points.

Rewards points can be used for all types of prizes – including pumpkin spice lattes. ☕️ Enjoy!

The "lets_play.jpg" image for this message is attached to the end of this article

Title: College Football Mascot Matching Contest

Start Date: 9/1

End Date: 9/30

Winner Prize: 100 points

Participation Prize: 2 points
Multiple Choice Surveys:
What is your favorite hot fall drink?
• 🍎 Apple Crisp Macchiato
• 🎃 Pumpkin Spice Latte
• 🍏 Hot Caramel Spice Apple Cider
• 🍁 Maple Cinnamon Tea


fall_drinks.jpg image is attached to the end of this article
Predict the winner and score for the <date> <home team> football game. Choose 1 winner AND 1 points spread.

Edit the question above for your high school/college/pro games.

Schedule new surveys to start a week before each game and end the day before the game.

See the graphic to the right for instructions on how to set up this survey.

football_field.jpg is attached to the end of this article
Text Answer Survey:
What do you enjoy most about your experience with our office?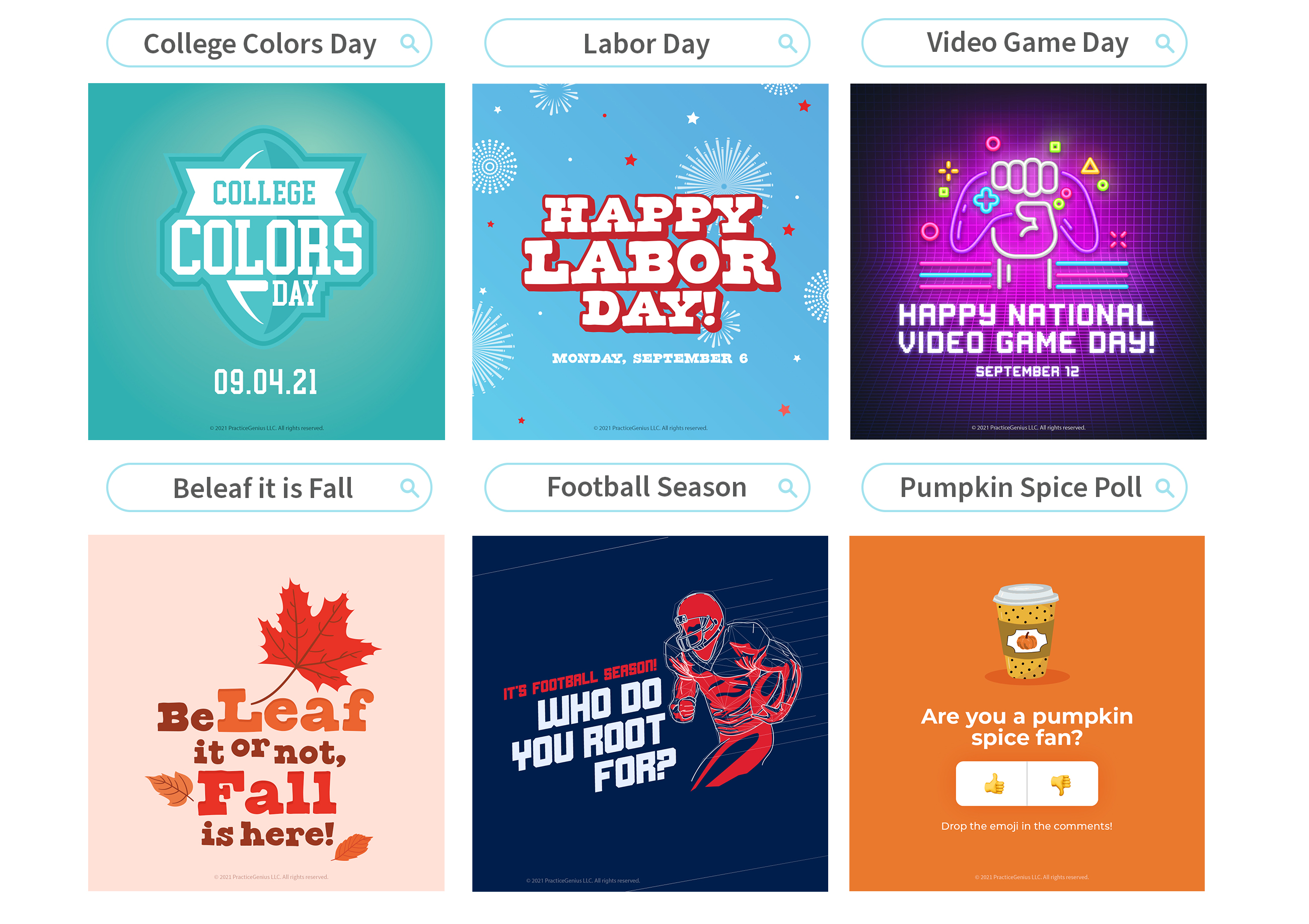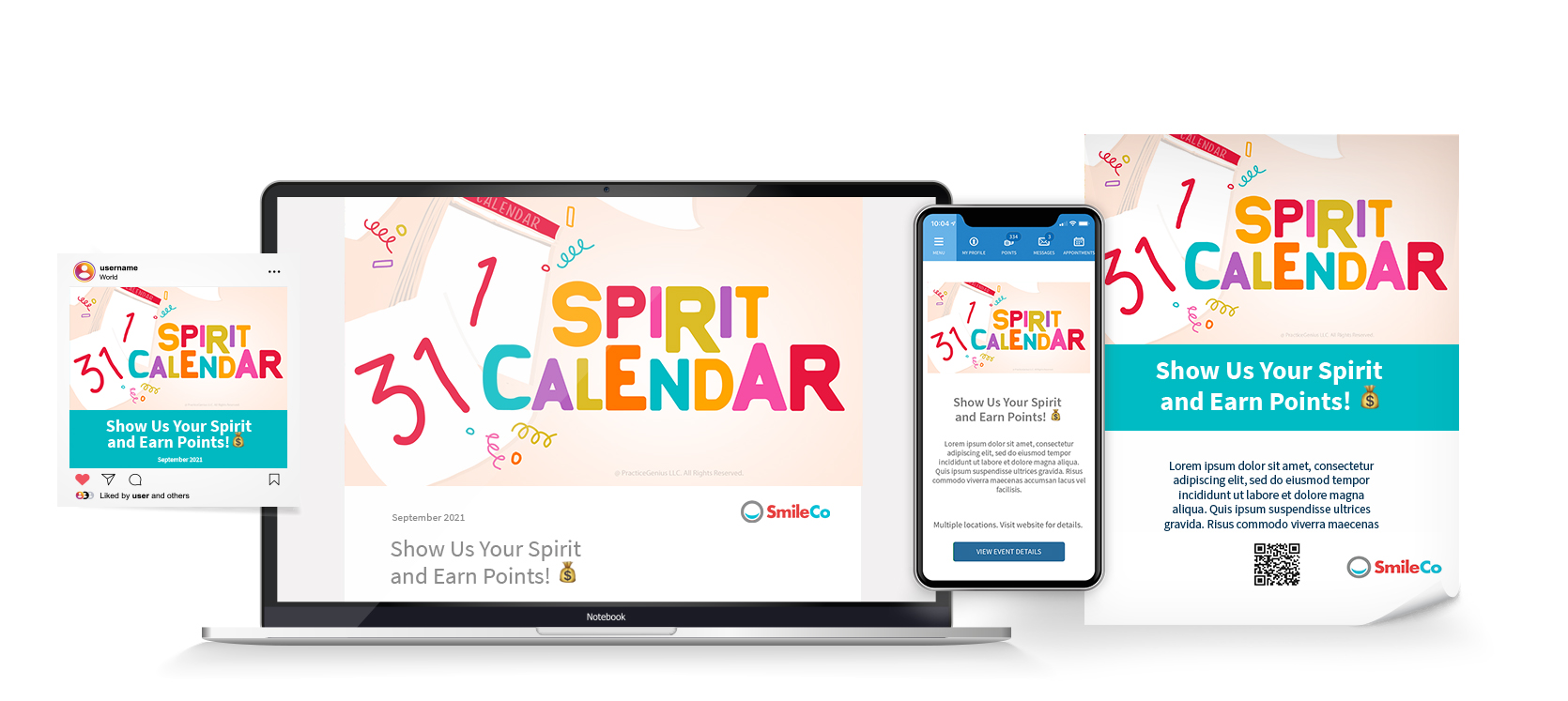 Spirit Weeks are a great way to add FUN to your office for everyone! Encourage your patients/customers and team members to dress up in each month's theme at their office visit during spirit week. Increase your social media presence by inviting rewards members who won't be in your office to participate by posting a photo on their social media sites decked out in that month's theme and tagging you. Award rewards points to each member who participates.
Promotion Manager is the perfect tool to help spread the word, and also serve as a reference calendar all year long. Make your calendar public so that it appears as a landing page on your Hub's microsite, along with a share button so people can help spread the word. Promotions Manager helps you create an in-app message to your members, along with print-ready flyers and posters with more information. And it can all be created in minutes!
––––––––––– 🛠 Click here for instructions to build this PROMOTION 🛠 –––––––––––

Your Hub Has a Fresh, New Look!

The Hub's newest update is going to help wow your customers, win new fans, and grow your business.

Free up valuable team member time with the QR code automation
The new Calendar provides a quick glance of all of your Hub's marketing tools and activities
Your Hub's fresh new look makes navigation easier
Free with your current Hub subscription

Join us for one of our LIVE WEBINARS to learn more.


_________________________________________________________________________
MORE Monthly Hub Action Plans!
August 2021 | July 2021 | June 2021 | May 2021 | April 2021
March 2021 | February 2021 | January 2021 | December 2020
November 2020 | October 2020 | September 2020 | August 2020
Watch for October's Hub Action Plan to hit your inbox in mid-September!
_________________________________________________________________________