Celebrate the season of love in February with new messaging, engagement, and promotions in your Hub! This month's Hub Action Plan is filled with ideas that encourage members to share the love with ideas for paying it forward to others, emailing stories about their best (or worse) Valentine's Day, referring their friends, and playing fun Valentine's-themed contests and surveys.
Let's get started! Begin with a quick video overview of this month's action plan, then update each tool in your Hub with the content below. In just 30 minutes or so, you'll have your Hub ready to go for the entire month of February. Enjoy!

Encourage members to refer their friends and family by scheduling a seasonal campaign. The Hub takes care of communicating your offer to members at the beginning of each campaign.

This campaign image can be found in your images library within Referral Manager.
––––––––––– 🛠 Click here for instructions to build this REFERRAL CAMPAIGN 🛠 –––––––––––


Promotion Manager's February event encourages members to share stories about their best – or worst – Valentine's Day. Team members will love reading all of the stories and picking their favorites to win special prizes. Once scheduled, you'll have access to an online landing page (for public events), information in the mobile app, and exciting ways to build excitement with social media posts, member messaging, and print materials with QR codes that make it easy to find more information. Click the link below for step-by-step instructions for building this promotion.
––––––––––– 🛠 Click here for instructions to build this PROMOTION 🛠 –––––––––––
Subject: February Is The Perfect Month To Share The Love ❤️️

Body Text:

Paying It Forward
In 2021


This month many of us will be celebrating Valentine's Day – complete with hearts, chocolate, and flowers. But it's also a great month to share the love with friends, family, and even perfect strangers by paying it forward in fun and creative ways – even during a pandemic.

Here are ten ideas for sharing the love this month:

Send a positive text message to five different people right now.

Donate old towels or blankets to an animal shelter.

Let someone go in front of you in line who only has a few items.

Write a kind message on your mirror with a dry erase marker for yourself, your significant other or a family member.

Know parents who could use a night out? Offer to babysit for free.

Return shopping carts for people at the grocery store.

Send a 'Thank you' card or note to the officers at your local police or fire station.

Run an errand for a family member who is busy.

Email or write to a former teacher who made a difference in your life.

When you hear that discouraging voice in your head, tell yourself something positive — you deserve kindness too!


Celebrate Valentine's Day in other ways this month by participating in our contests and surveys, clicking on the Promotions tab in your app to learn more about a Valentine's story challenge, or sending our referral offer to someone who could use 500 points in rewards. Happy Valentine's Day!

Source for top ten list: randomactsofkindness.org

The "Share_the_Love.jpg" image for this message is attached to the end of this article.

Title: Valentine Mix Up

Start Date: 2/1

End Date: 2/28

Winner Prize: 100 points

Participation Prize: 2 points
Multiple Choice Surveys:
What is the most commonly purchased flower in the U.S. on Valentine's Day?
• Tulip
• Rose
• Carnation
• Marigold
• Lily
(Answer: Rose)
Who was the first President of the United States?
• Abraham Lincoln
• Ronald Reagan
• George Washington
• Benjamin Franklin
• John Adams
(Answer: George Washington)
A child should be seen by a dentist by what age?
• 7 years old
• 5 years old
• 3 years old
• 1 year old

(Answer: 1 year old)
Open Response Surveys:
Kindness is doing what you can, where you are, with what you have. Tell us some ways you can spread kindness.
Pay it forward! Even small acts count. It doesn't matter how much you give. All that matters is that you are willing to give and to spread the word. Tell us some ways you can pay if forward.
Which one of our fabulous team members would you like to give a shout out to and why?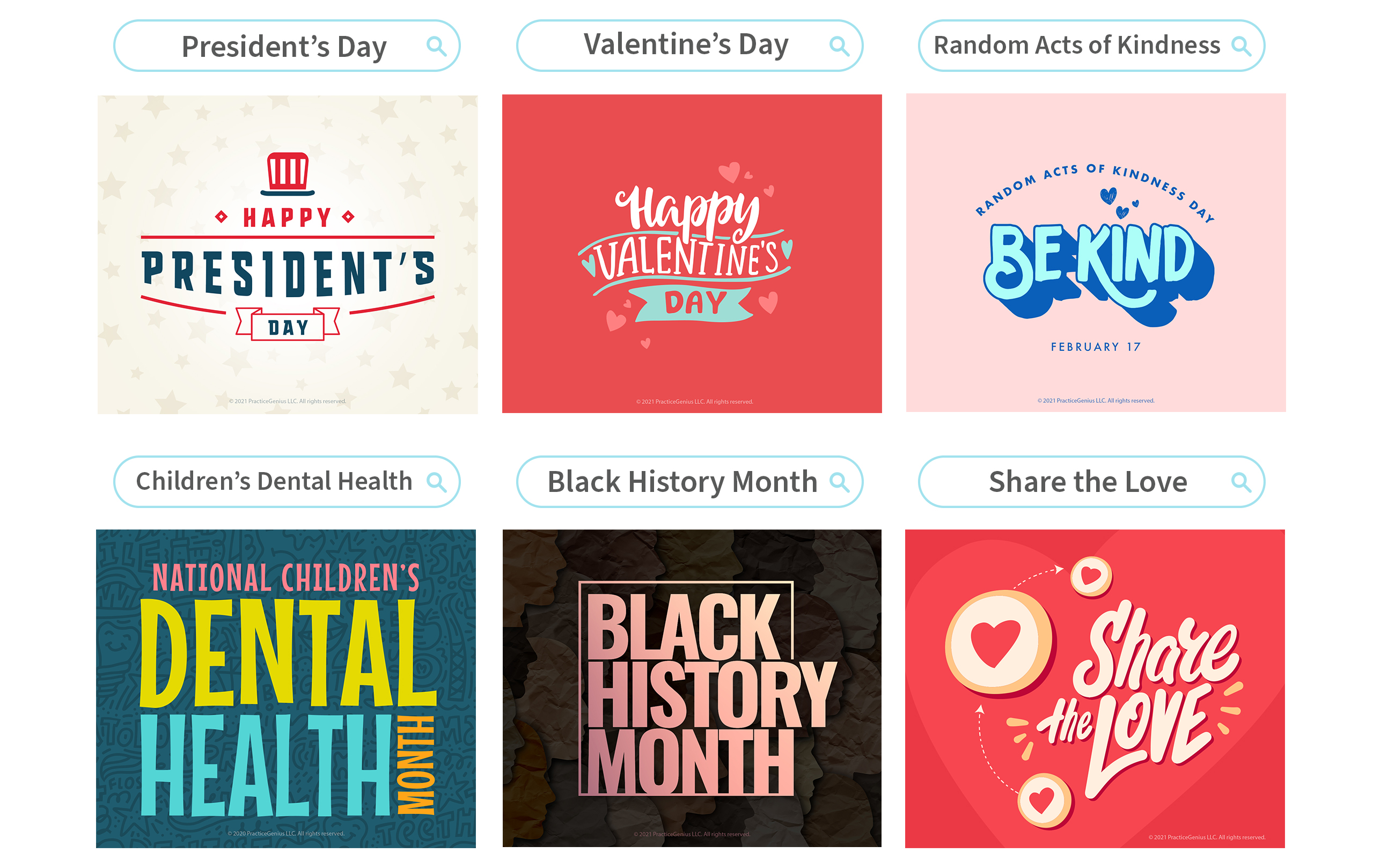 | | |
| --- | --- |
| Reward Items for February | Points |
| Wear pink or red to your appointment | 5 |
| Post a message on our FB wall and tell us why you love coming here | 10 |
| Donate blood in February to help save someone's life | 100 |
| Send A Valentine's Day cards to a local nursing home | 5 |
| Pay it forward 10 points to the next patient in your chair or next person to visit the office | |

We started 2021 in a big way with a fabulous Hub Marketing Kickoff Webinar in January!

Webinar participants received marketing tips, an overview of new Hub features launched in 2020, and examples of how top Hub practices used the Hub to grow their business.

CLICK HERE to watch a recorded version of the webinar and register for our upcoming webinars highlighting customer engagement, customer outreach, and new customer acquisition.

Reviews Automation has launched!

Every business owner knows how valuable a useful review can be. And, for your potential new customers, nothing ranks higher than great reviews on Google or Facebook. The Hub's Reviews Automation nudges customers directly to your linked Google and Facebook listings at precisely the right moment.

Visit AUTOMATION MANAGER in your Hub to set it up today!
MORE Monthly Hub Action Plans!
January 2021 | December 2020 | November 2020 | October 2020
September 2020 | August 2020 | July 2020 | June 2020
Watch for March's Hub Action Plan to hit your inbox in mid-February!