Ring in the New Year with new messaging, engagement, and promotions in your Hub! This month's Hub Action Plan is filled with ideas that reflect on 2020 while looking forward with hope for 2021.
Begin with a quick video overview of this month's action plan, then jump right in with the latest referral and promotion campaigns introducing offers that can be customized to fit your for goals for the new year. This month's message focuses on self care, while the contest measures trivia knowledge about the best (and worst) of 2020. Surveys introduce the fun new use of emojis to gauge reactions from members. Let's get started!

Encourage members to refer their friends and family by scheduling a seasonal campaign. The Hub takes care of communicating your offer to members at the beginning of each campaign.

This campaign image can be found in your images library within Referral Manager.
––––––––––– 🛠 Click here for instructions to build this REFERRAL CAMPAIGN 🛠 –––––––––––


Promotion Manager helps you spread the word about January's NEW YEAR NEW YOU offer, complete with an online landing page, information in the mobile app, and exciting ways to build excitement with social media posts, member messaging, and print materials with QR codes that make it easy to find more information. Click the link below for step-by-step instructions for building this promotion.
––––––––––– 🛠 Click here for instructions to build this PROMOTION 🛠 –––––––––––
Subject: 2021 is a New Year With New Beginnings

Body Text:

New Year…

New Beginnings


Let's start the New Year by taking small steps toward practicing self care. Just one small thing each day can help you on this journey!

Here are some ideas to get you started:

Find creative ways to spend time safely with friends, like virtual movie parties
Do something you enjoy outside, like going to the park or for a run.
Treat yourself to healthy snacks and get enough sleep.
Make time to relax by reading, listening to music, or exploring a new hobby.
Remember, you're not alone. Tell someone you trust if you or a friend feels bad.

The "Self_Care.jpg" image for this message is attached to the end of this article.

Title: The Best (& Not So Best) of 2020

Start Date: 1/1

End Date: 1/31

Winner Prize: 100 points

Participation Prize: 2 points
Open Response Surveys:
We know that 2020 was a challenging year! What was the best thing that happened to you in 2020? 🎉

Multiple Choice Surveys:
How do you feel about the service you received?
• 😊
• 😐
• 🙁
Do you make New Year's resolutions?
• 👍
• 👎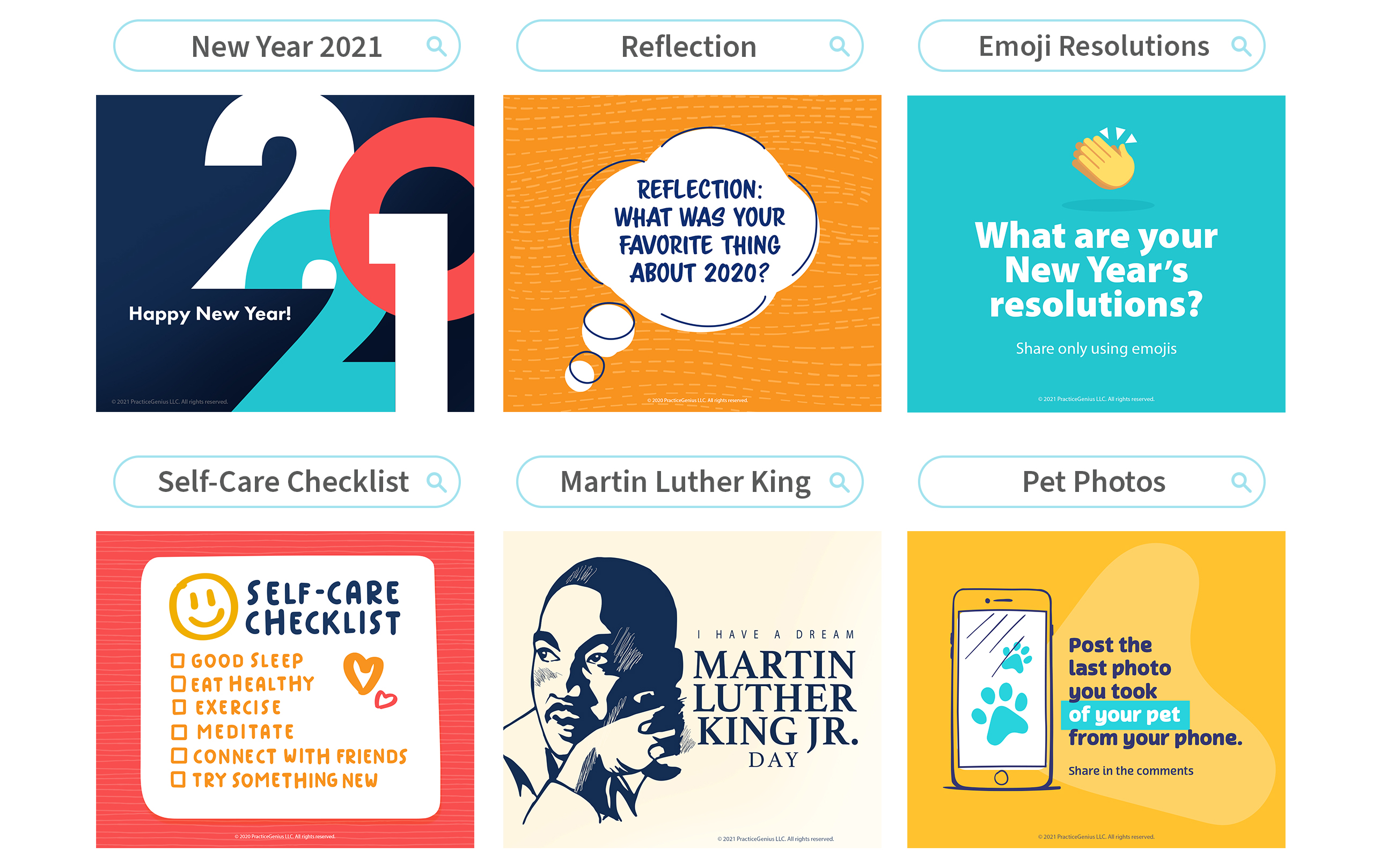 | | |
| --- | --- |
| Reward Items for December | Points |
| Tell us some of the ways you completed the self care checklist | 5 |
| Tell us one of your resolutions | 2 |
| Donate 50 Hub points to one of our charities | 25 |
| Bring in a coat or winter gear to donate | 10 |
| Email us a list of your New Year's Resolutions | 10 |

Launch More Google and Facebook Reviews in 2021!

Watch for a fantastic new addition to your Automation Manager coming soon: REVIEWS AUTOMATION! Every business owner knows how valuable a useful review can be. And, for your potential new customers, nothing ranks higher than great reviews on Google or Facebook. The Hub's Reviews Automation nudges customers directly to your linked Google and Facebook listings at precisely the right moment!

Watch for a system alert and email soon announcing the release.

Holiday Automations was added to your NEW Automations Manager in December!

With this new automation, you can automatically send a holiday message and rewards to everyone, or target different messages and different rewards to each group in your Hub – members, your awesome team, and more. Set your automations for whatever date you choose and the Hub takes care of the rest.
MORE Monthly Hub Action Plans!
December 2020 | November 2020 | October 2020
September 2020 | August 2020 | July 2020 | June 2020
Watch for February's Hub Action Plan to hit your inbox in mid-January!