Monthly Hub Action Plans give you step-by-step instructions for using the tools in your Hub to inform and engage with your members. Quickly set up COMMUNICATION MANAGER to send emails and in-app messages, CONTESTS and SURVEYS to keep members engaged with your office, SOCIAL MEDIA MANAGER to automatically post throughout the month, and REFERRAL MANAGER to encourage members to spread the word about you. In less than 30 minutes your Hub can be updated for July by following the action plan below.
For a visual walkthrough of the plan, click here to watch a Customer Success Advisor set up a Hub using July's Action Plan. Need additional assistance? Our Customer Success Advisors are standing by to help or provide a thorough Hub Audit to ensure you're getting the most out of all of its tools.
Subject: Hello Summer!! ☀️

Body Text:

WELCOME TO THE SECOND HALF OF 2020!

It's been quite a year so far! We hope you're finding ways to enjoy the summer even if this year looks different than it has in the past.

We thought we'd help by creating some fun ways to celebrate summer in your Hub. Log on today and play the 'I Scream for Ice Cream' contest and earn Hub points. While you're there, answer some fun survey questions and check out new ways to earn points – like wearing red, white and blue to your appointment, or posting your favorite vacation photo wearing our practice t-shirt.

We've also created a

new referral offer

so that you can share the fun with your friends and family. Both of you will earn major points that can be redeemed for really cool prizes. Check it out; it's all in

the Hub!

The "Hello_Summer.png" image for this message is attached to the end of this article.
–––––––––––––– Click here to learn more about COMMUNICATIONS MANAGER ––––––––––––––

Title: We All Scream for Ice Cream

Start Date: 7/1

End Date: 7/31

Winner Prize: 100 points

Participation Prize: 2 points
––––––––––––––––– Click here to learn more about CONTESTS –––––––––––––––––
What is your family's tradition on Independence Day?
Where do you watch the fireworks on the 4th of July?
• City or county fireworks display
• At home on TV
• From my yard, deck, or balcony
• Other
• I don't usually watch the fireworks
What does patriotism mean to you?
What is your favorite summertime activity?
• Going to the beach
• Playing sports
• Reading a book
• Watching TV
• Playing video games
• Hanging out with friends
• Other
What has been your favorite summer vacation?
Which do you prefer?
• Beach
• Pool
––––––––––––––––– Click here to learn more about SURVEYS –––––––––––––––––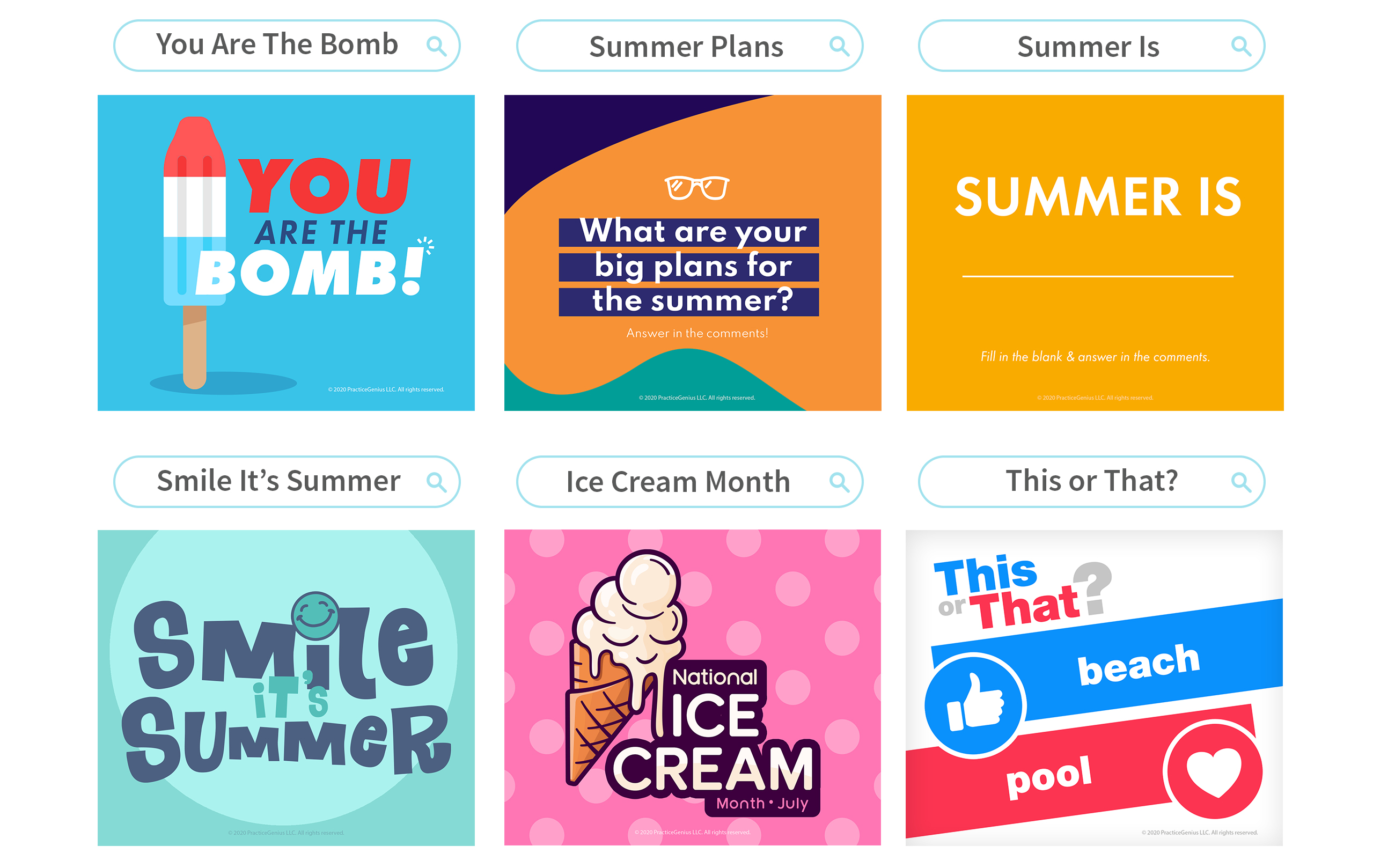 –––––––––––––– Click here to learn more about SOCIAL MEDIA MANAGER ––––––––––––––

| | |
| --- | --- |
| Reward Item | Points |
| Wearing red, white & blue to your appointment | 5 |
| Post a Happy 4th message in sidewalk chalk and tag us | 5 |
| Post a pic with sparklers or near an American flag with your practice t-shirt or Hub card and tag us | 5 |
| Tell us who your favorite American in history is and why | 5 |
| Post a vacation photo in your practice t-shirt or with your Hub card and tag us | 5 |

–––––––––––––– Click here to learn more about your REWARDS MENU ––––––––––––––

Make a splash this summer by creating a referral campaign that encourages your members to refer their friends. Campaigns can be customized to fit your needs.

The "Make a Splash" image for this campaign is attached to the end of this article.
–––––––––––––– Click here for instructions to build this REFERRAL CAMPAIGN ––––––––––––––
–––––––––––––– Click here to learn more about REFERRAL MANAGER –––––––––––––



Wishing all of your members a happy birthday just got easier with your NEW

Automation Manager!

Set up your Hub to automatically send birthday messages to each of your members AND automatically award them Hub points on their birthday.

Learn More
Hub Action Plans
Each action plan is packed with useful information you can use in your Hub today. If you missed it, click the links below for helpful information.
Monthly Hub Action Plans | May 2020 | June 2020
Weekly Hub Action Plans | Week 1 | Week 2 | Week 3 | Week 4 | Week 5 | Week 6