Monthly Hub Action Plans give you step-by-step instructions for using the tools in your Hub to inform and engage with your members. Quickly set up COMMUNICATION MANAGER to send emails and in-app messages, CONTESTS and SURVEYS to keep members engaged with your office, SOCIAL MEDIA MANAGER to automatically post throughout the month, and REFERRAL MANAGER to encourage members to spread the word about you.
We're also standing by to help. Join us for this week's Zoom meeting for a closer look at the Action Plan, and later this month for webinars about social media strategies and a one-on-one audit of your Hub with a Customer Success Advisor. We've also attached some helpful graphics to the end of this article that you can use in-office and online, so be sure to check it all out below!
Subject: Mom's Best Advice: Be Safe

Body Text:

"Be Safe" How many times have our moms told us that? As we celebrate Mother's Day this year there's never been a more important time to heed her advice. As you take extra precautions to keep you and your loved ones safe, we want to let you know that we're doing the same in our office. Please help us keep you, our team members, and others safe during your next visit by following these new protocols:

Social Distancing
You'll notice that we've made some changes in the office to assure that people are socially distancing, like limiting the number of people in our office at once, and spacing chairs further apart. You can do your part by staying 6 feet away from each other and our team, when possible.

Face Masks
Most of our team members will be wearing face masks. Please bring your face mask with you and wear it in our office.

Disinfection
Team members will practice proper hand washing and will use wipes and sprays throughout the day to keep surfaces in our office clean. Please use the hand sanitizer available in our office, and avoid touching your face during your visit.

Stay Home If You're Not Well
If you have a fever of 100 degrees or are coughing, achy, or have difficulty breathing, we ask that you stay at home and call us to reschedule.

We're doing our best to keep you healthy so that you – and your mom – can relax and enjoy a happy Mother's Day. Be safe!

The "BeSafe.jpg" image for this message is attached to the end of this article.
–––––––––––––– Click here to learn more about COMMUNICATIONS MANAGER ––––––––––––––

Title: Famous Momma's

Start Date: 5/4

End Date: 5/31

Winner Prize: 100 points

Participation Prize: 2 points
––––––––––––––––– Click here to learn more about CONTESTS –––––––––––––––––
What key advice did your mom give you as a kid that you still use today?
• If you don't have anything nice to say, don't say anything at all
• Don't you use that tone with me!
• If all of your friends jumped off a bridge, would you?
• Ask a stupid question, get a stupid answer
What is the funniest thing your Mom has ever done or said?
Who is your favorite TV mom?
What are you going to do for your mom this year to make her feel special?
What was your most memorable vacation with your mom?
What was your favorite book your mom read to you as a child?
What is your mom really good at?
Where would your mom like to go on vacation?
––––––––––––––––– Click here to learn more about SURVEYS –––––––––––––––––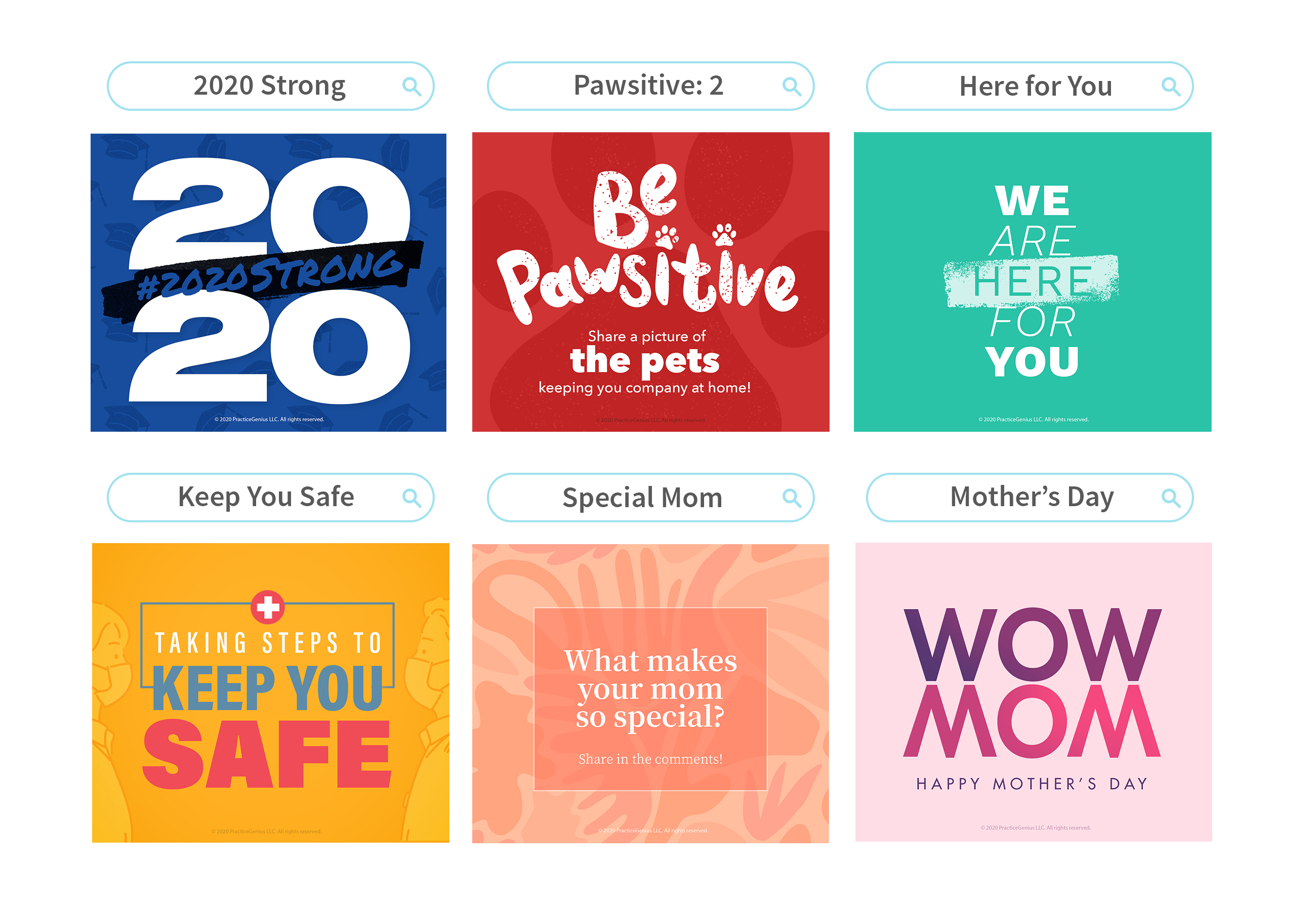 –––––––––––––– Click here to learn more about SOCIAL MEDIA MANAGER ––––––––––––––

| | |
| --- | --- |
| Reward Item | Points |
| Posting a photo of you and your mom on our Facebook page | 5 |
| Wearing your mask when you visit our office | 5 |
| Bringing in a canned food item for the local food bank | 5 |
| Posting a photo of your takeout/delivery meal from a local restaurant on our Facebook page | 5 |
–––––––––––––– Click here to learn more about your REWARDS MENU ––––––––––––––

Let your members know that you care about them, their friends, and your community by offering a referral campaign that rewards them for referrals with gift cards to local stores and restaurants. You decide the amount and which businesses to support with a customized campaign.

The "We_Care" images for this campaign are attached to the end of this article.
–––––––––––––– Click here for instructions to build this REFERRAL CAMPAIGN ––––––––––––––
–––––––––––––– Click here to learn more about REFERRAL MANAGER –––––––––––––

Join us for a 60-minute webinar that will give you actionable and proven social strategies in this changing environment!

Tuesday, May 5
Meet 1-on-1 with a Customer Success Advisor for an audit of your Hub. We'll have some great tips for you to start using today to communicate and engage with patients, generate reviews, and increase referrals.

CLICK HERE

to schedule a Hub Audit
To support orthodontic and dental practices who were required to close during the the COVID-19 pandemic, PracticeGenius created weekly Hub Action Plans to help them communicate and engage with patients. Whether or not you're in the business of treating patients, these Hub Action Plans are packed with so much great information we just had to share.
Hub Action Plans | Week 1 | Week 2 | Week 3 | Week 4 | Week 5 | Week 6

ARE YOU OPEN? You'll find some fabulous graphics in this article that you can use to help spread the word in your in-app messages and social media posts. Click on the 'OPEN' file names at the end of this article to download your favorites.
CLINICIANS: We've created two new posters you can download, print and post in your office to reinforce healthy habits. Please click on the file names at the end of this article.
| | | |
| --- | --- | --- |
| Coronavirus_Office_Procedures_Poster.pdf | | Coronavirus_Door_Warning_Poster.pdf |
GRAPHICS for IN-APP MESSAGE and REFERRAL CAMPAIGN: