Admins can easily link their business's Instagram account and reward members by following the next 3 steps:
Create a New Reward Item
Connect your Instagram account
Select a Reward Item
Update your Access Control Center
Additional details about these steps are provided below.
Also, be sure to print our colorful promotional flyer you use it to alert your members about this great feature!
Create a New Reward Item
Jump to the Reward Menu by clicking on Manage followed by Reward Menu.
Check your Practice Promotions reward category to see if there is already a reward created for Following Us on Instagram. If there is not, click Add New Reward Item at the top of the page.
Provide a reward item name and point value, then designate its category. Most likely, you'll want to choose Practice Promotions.
Click Save once you are finished.
Connect your Instagram Account
Head to the Widgets page by clicking on Manage followed by Widgets.
Click Instagram to go to the Instagram connection page.
Tap the Connect with Instagram button.
**Note** If you are already logged into your Instagram account, the connection will be made automatically.
Log into your business' account.
Click Authorize.
Once your Instagram account is successfully connected, your page will look like this! If you ever need to disable the connection, simply tap the Click Here link.
To add your reward item so that your members can be automatically rewarded for following you on Instagram, click Select Reward Item.
Then find the reward item you would like to link using the drop down menus.
Once the reward item is connected, your page should look like this.
Update your Access Control Center
The last step to complete is to head to your Access Control page and designate which users you want to allow to follow you on Instagram.
Click on Manage followed by Access Control.
Then check the desired user groups in the Instagram Follow section.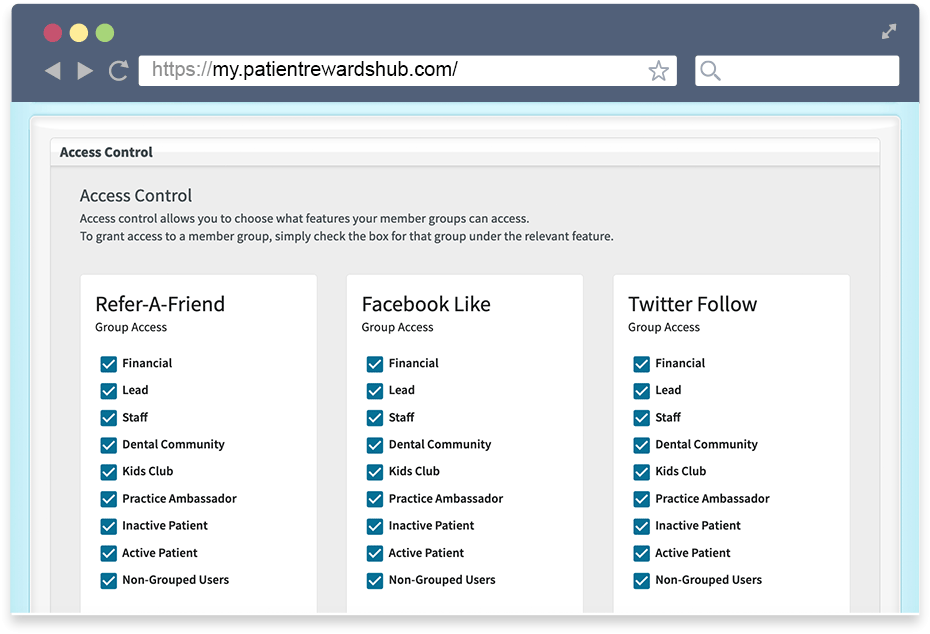 Now your reward item will be linked, and your users will be able to earn points automatically whenever they follow your business on Instagram.