Below are some common Facebook questions, however, if you do not see your question below, please give our Technical Support Team a call for assistance 1-800-560-1469 ext 4.
I'm trying to connect my business's Facebook page to the Rewards Hub, but I'm unable to.
When connecting a Facebook page to the
Rewards Hub, the Facebook account you use to login must have Admin privileges for the page you're trying to connect. If you see the following pop-up, you will know that the account you're using is not an Admin for your business's page: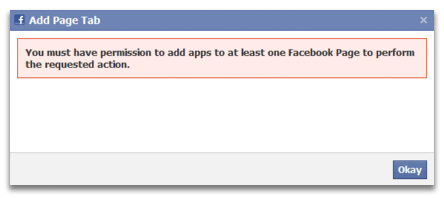 Where can I view my Facebook admins?
When you log into Facebook, click the drop-down arrow on the upper-right hand side of your page (in the blue toolbar). Click on your business's Facebook page under
Use Facebook As
. Then, go to your business's page. From the Admin Panel menu, click
Manage
, followed by
Settings
. On this page, click
Admin Roles
on the left sidebar.