Syncing Dolphin with the Hub only takes a few steps! Once it's setup, Dolphin will be able to:
Share patient information with the Hub
Update a patient's Hub tags whenever a patient's status changes
Allow patients to checkin using their Hub cards or Hub app
Let's get started!
Step 1: Find your HubSync Computer
Once Dolphin is installed on each of your computers, we can install HubSync on any computer that meets the following requirements:
Running Windows Vista or higher (no XP)

Turned on all day (but can be logged off at night and over the weekend)

Constantly signed into the same Windows user as the person who signed in during the HubSync

Has Dolphin Management software is installed

Is not the Dolphin Server

Is not a thin client or terminal server

Does not contain sensitive information, should our tech team need to access this computer after hours
Please note that if your practice has more than one location sharing the same Dolphin database, we may need to install HubSync on your server instead of a workstation machine. Please give us a call or send us an email if this is the case for your office!
Step 2: Call PracticeGenius to Install HubSync
Now that we've found the right computer, call your Customer Success Advisor at 1-800-560-1469 to get the latest version of HubSync downloaded.
This process can take 30-45 minutes, so we recommend doing it at a time when the computer you have chosen does not need to be used for business operations, but can still access your Dolphin software.
Once your HubSync is installed, profiles will be synced every 30 seconds, so long as the user account it's installed on is logged in.
Step 3: Create your Tag Map
Once your Dolphin practice management system is integrated with the Hub, checkout the Integration page to see its latest updates.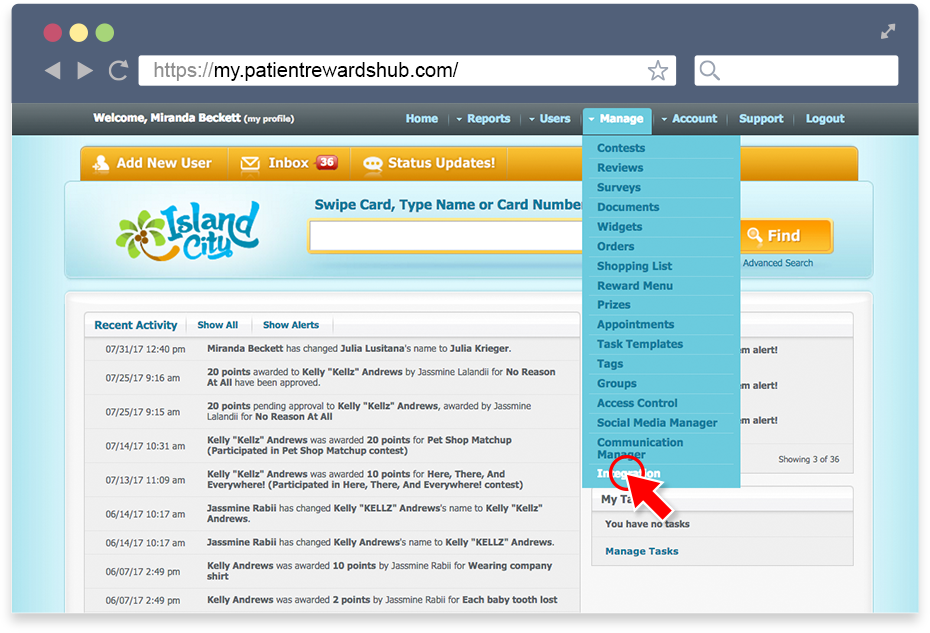 Syncing statuses is a cinch using the Tag Mapping section. Just in case you don't know where to begin, here are some examples of common pairs we've seen:


Dolphin: New Patient --> Hub: Future Patient
These patients have not been seen yet


Dolphin: Recall --> Hub: Kids Club
These patients have had an exam, but are not clinically ready to begin


Dolphin: Phase I --> Hub: Orthodontic Patient
These patients are usually about 6-10 years old, and are having treatment to intercept a problem


Dolphin: Observation/Between Phases --> Hub: Between Treatment Patient
These patients have completed Phase I, but are not yet ready for Phase II


Dolphin: Phase II --> Hub: Orthodontic Patient
These patients have had a Phase I treatment and are in treatment for full ortho treatment


Dolphin: Comprehensive Child --> Hub: Orthodontic Patient
These patients are in full ortho treatment


Dolphin: Comprehensive Adult --> Hub: Adult Patient
These patients are in full ortho treatment


Dolphin: Invisalign --> Hub: Adult Patient
These patients are in full ortho treatment but use Invisalign


Dolphin: Invisalign Teen --> Hub: Orthodontic Patient
These patients are in full ortho treatment but use Invisalign


Dolphin: Retention --> Hub: Alumni
These patients are now finished with braces and have retainers


Dolphin: Inactive --> Hub: Alumni
These patients are now finished with the retention phase of treatment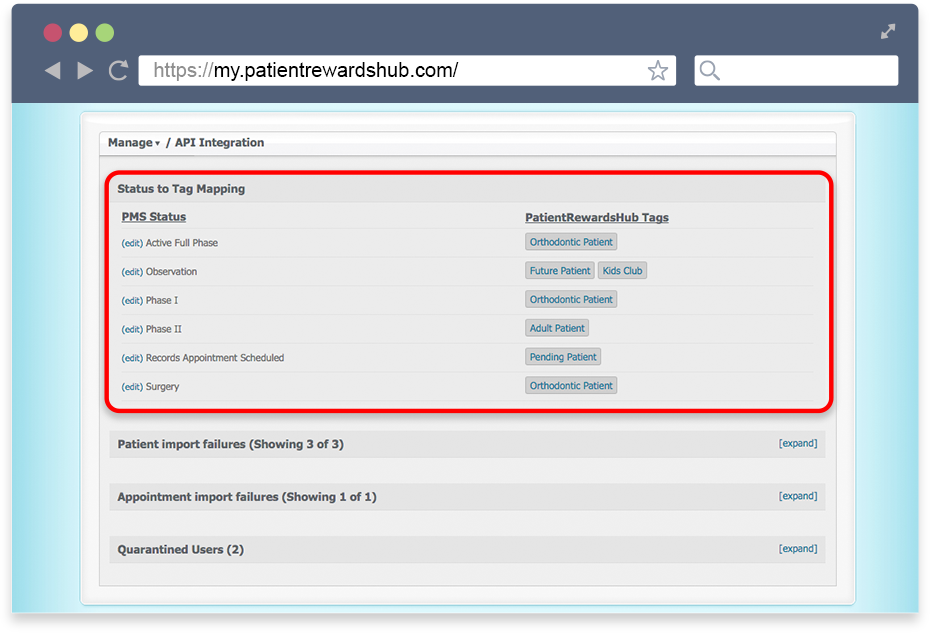 On the left, you will find statuses pulled in from Dolphin. Simply click on the "Edit" link next to any status to open up a list of tags you can map it to in the Hub.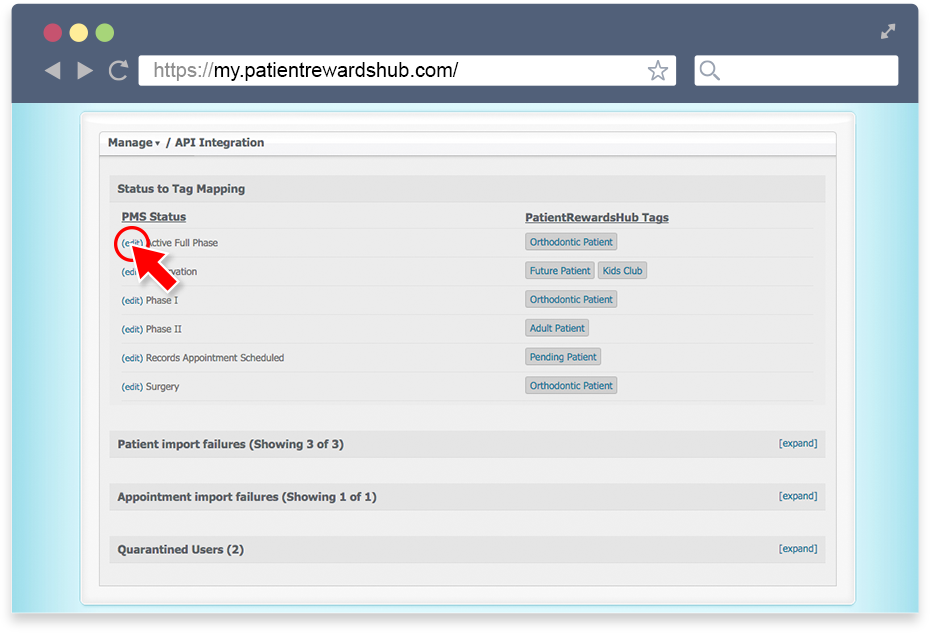 Once the list appears, select whichever tags you would like to map to this status.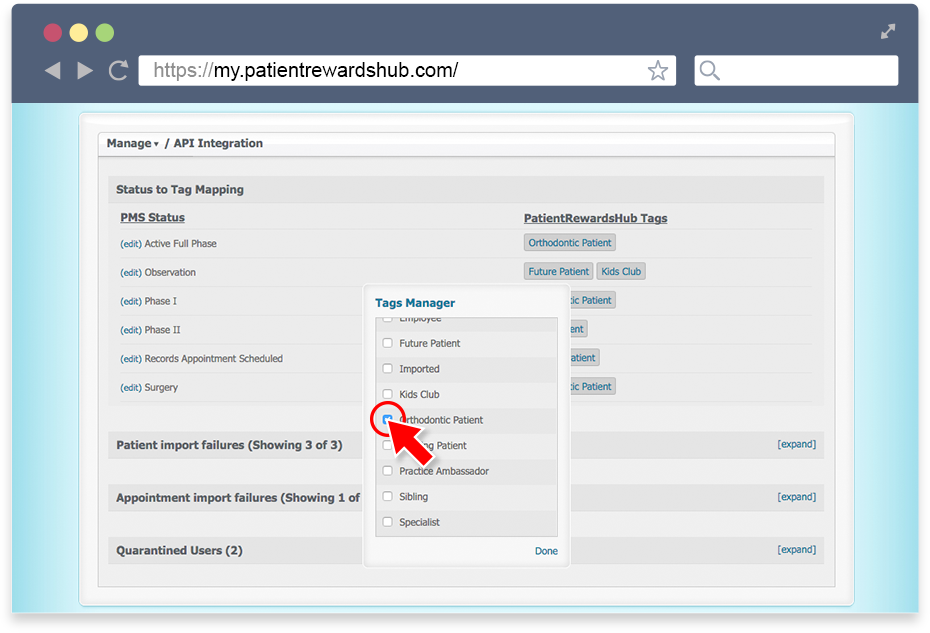 As soon as you have selected your options, click "Done" to confirm your choices.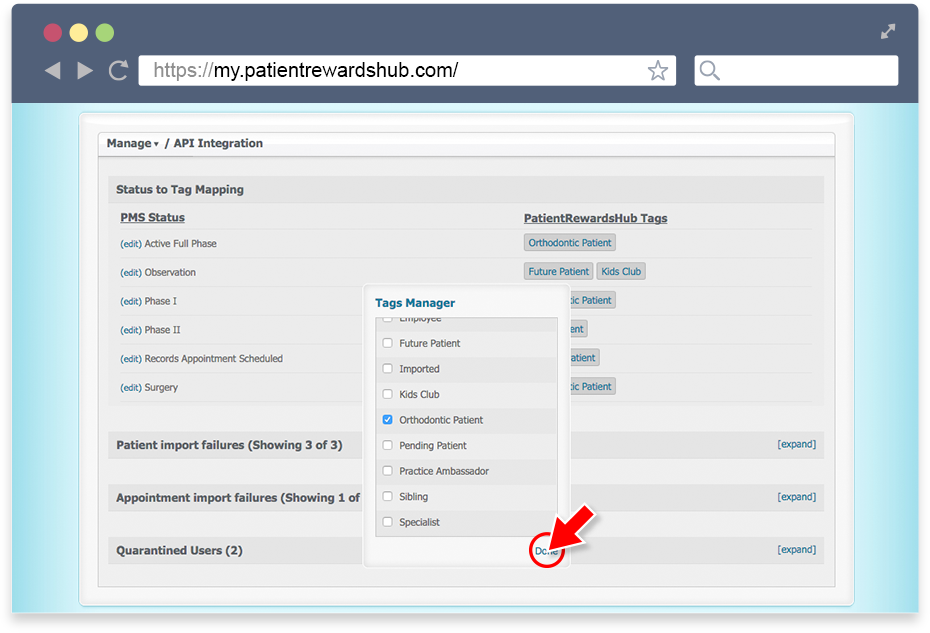 Excellent!
Now the statuses you use in Dolphin are mapped to tags you use in the Hub. If you ever want to make adjustments, simply click the "Edit" link to reconfigure your settings. It's as easy as that!
Step 4: Setup your Checkin Feature
Now that the HubSync is downloaded successfully, patients should be able to check into their appointments by either:
Sliding their rewards card through the card reader attached to the sign-in computer, or
Scanning their Hub app barcode on their phone or Apple Watch
Here's a guide you can use to Test Your Sign-In feature! 
Step 5: Keep an Eye on Import Failures and Quarantines
If you ever have trouble finding a patient's profile in your Hub, go to the Integration page and check out the Patient Import Failures and Quarantines sections to see if there might have been an error that prevented their profile from transitioning over from Dolphin or properly updating in the Hub. 
Simply click the "Expand" link at the top right right pf the Patient Import Failures section to open the list. Then, search for your missing patient's name (CTRL+F  in Windows or CMD+F on a Mac could be useful here).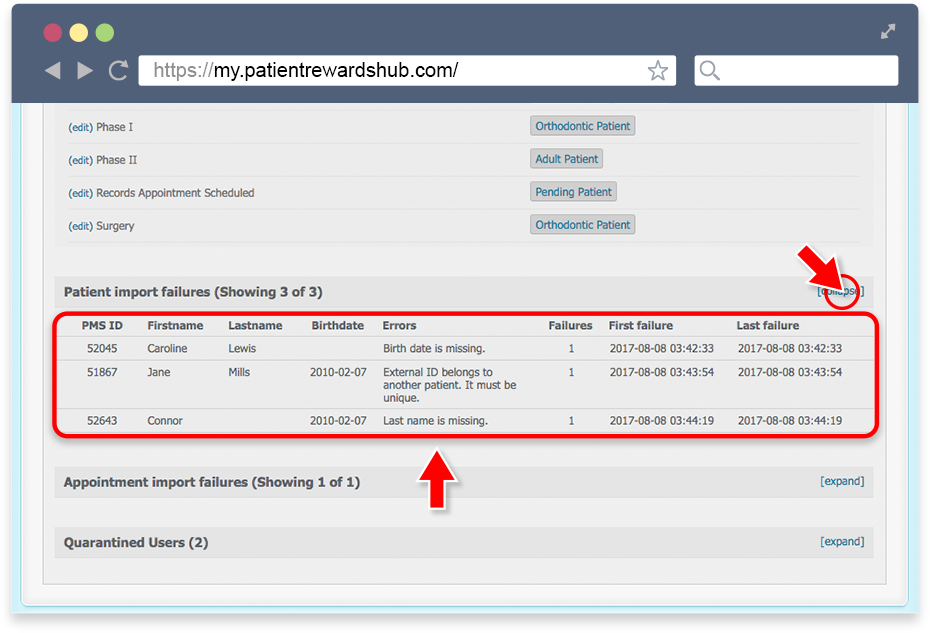 If you find them on the page, look at the errors column in their row to see what caused the hiccup. As soon as this error is addressed, their profile will sync with the Hub.
Patient & Appointment Import Failures
If you believe that appointments are not being communicated from Dolphin to the Hub, check this section by clicking "Expand" at the top right. Details as to why the appointment did not show in the Hub are located in the Error column.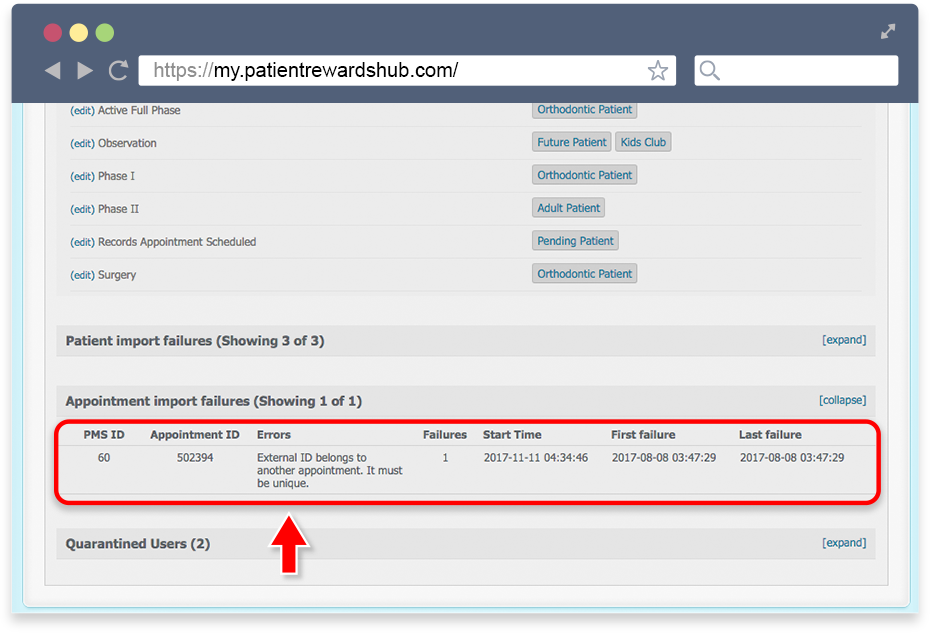 Quarantines
Still unable to find your missing patient? The Quarantines section may provide the answer!
Here you will find all the patient profiles that were successfully created in the Hub, but have been suspended due to new information being added in Dolphin.
To ensure that the profiles on this page are reinstated in the Hub, please choose whether to "Accept" or "Reject" the newest updates from Dolphin.
If you click "Accept", the patient's account will be updated in the Hub with all the information you see in black.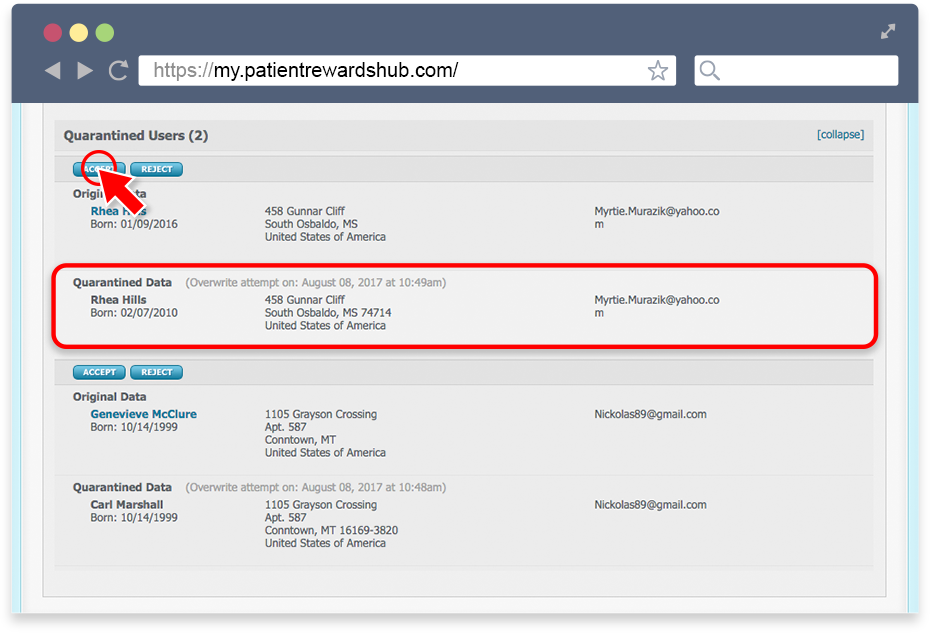 If you click "Reject", the patient's account will be reinstated in the Hub containing the original information in blue.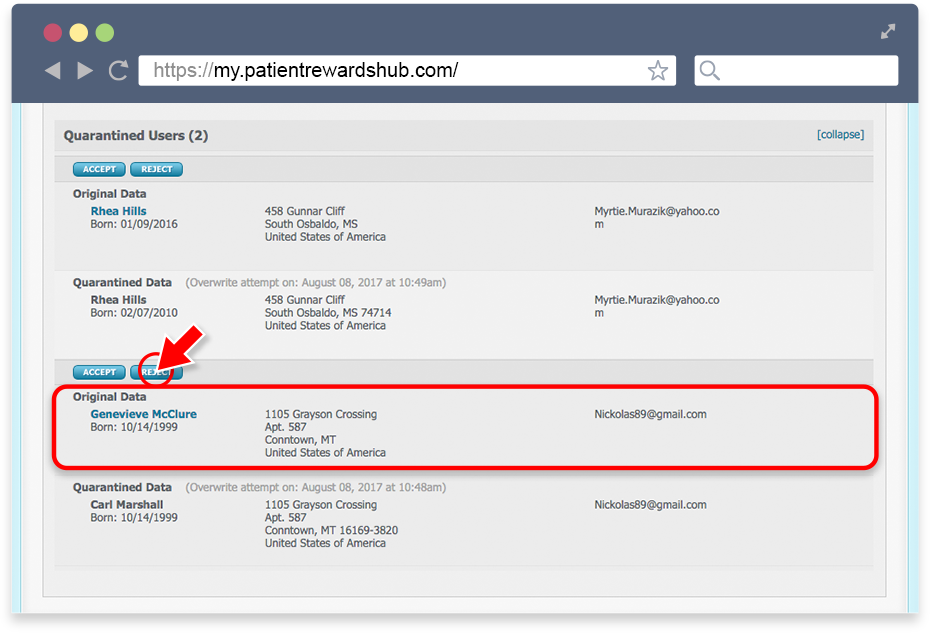 And that's it! Now you're a master of the integration tab. If you have any questions, though, please don't hesitate to reach out to one of our Customer Success Advisors by submitting a ticket here!